Through October, Kew Gardens is hosting a month-long celebration of Japanese art, culture and exotic plant life. A highlight of 'Japan' is the opportunity for visitors to experience momijigari, the Japanese tradition of admiring the changing colours of autumn leaves, without needing to book air travel.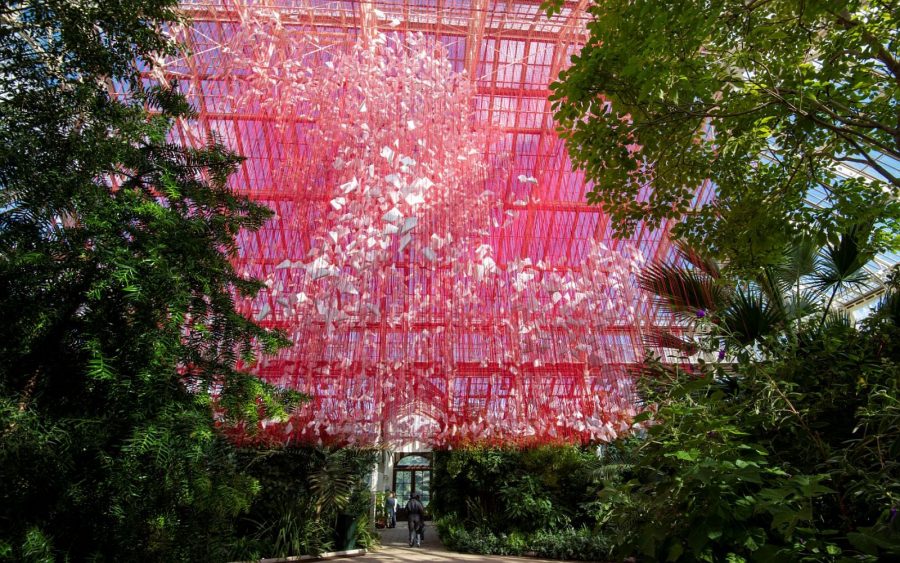 The Kew Gardens momijigari experience takes visitors on a dreamy trail, from the chokushi-mon model of Kyoto's 16th century temple gate to the gingko grove, past the lush red maple trees concluding at the Minka House. This curious Japanese farmhouse was donated to Kew by its last owners, shipped over and thoughtfully rebuilt where it nestles peacefully among sacred bamboo, thought to dispel bad dreams. Immersive art installations and live performances complement the momijigari walk.
Read more: How to have a weekend of Japanese culture in London
The setting is Kew Garden's grand Temperate House, the world's largest surviving Victorian glasshouse that is home to over 10,000 plants from across five continents. The showpiece here is One Thousand Springs, a huge installation by artist Chiharu Shiota (pictured below).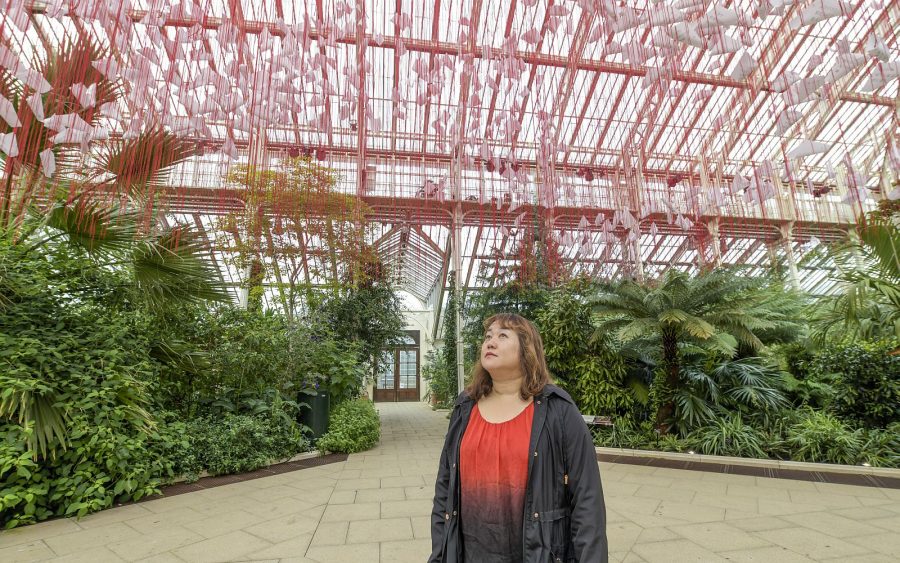 Celebrated for her vast webs of thread installations, Shiota's unique work for Kew Gardens is made of 5,000 poems that are suspended from the conservatory's vaulted beams within a sea of red threads. The poems, many of which were sent in by the public, narrate our shared connections with nature.
"The Japanese language was formed by a culture that cherishes the natural world. Many cultural practices like ikebana, bonsai and hanami are based on the contemplation and enjoyment of nature," says Shiota. She chose haiku, short-form poems, for her Kew work, noting, "The traditional haiku mentions one of the seasons and many are based on observations in nature."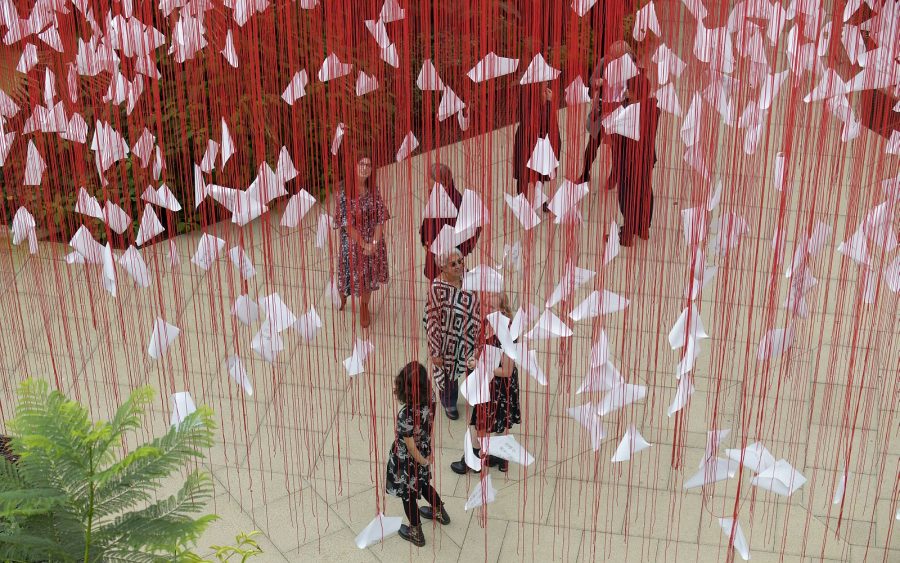 Visitors' senses are heightened further by Yosi Horikawa's meditative composition, which gently fills the glass and cast-iron Temperate House. The self-taught Japanese sound artist has taken natural vibrations from the rivers and waterfalls of Kagoshima, soundscapes from the cedar mountains of Gifu, and bird calls set across the waves of the Philippine Sea. The resulting sensory installation transports visitors to nature and to Japan.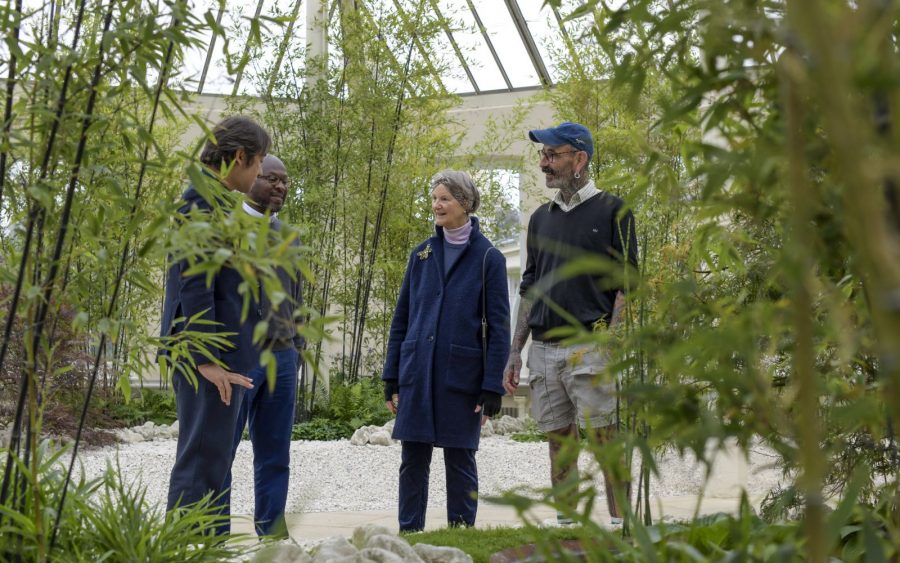 In addition, Chalk Garden (above) responds to the ancient Japanese garden in a modern and local context. The collaborative work of Otis Landscape and the architects at Kodai is inspired by Japan's dramatic southern cliffs for a garden design within a uniquely British landscape. The native plants – grasses, shrubs and trees – collectively cultivate a sense of calm and reflection.
Elsewhere as part of the festival, Kew's own horticultural team has designed a spectacular display of Japan's national flower chrysanthemum – a symbol of longevity, rejuvenation and goodwill. The chrysanthemum festival of Kiku Matsuri happens across Japan every autumn, where growers compete for the top prize. Kew's response (below) features six varieties of chrysanthemums with yellow and orange blooms to evoke the autumnal sunset.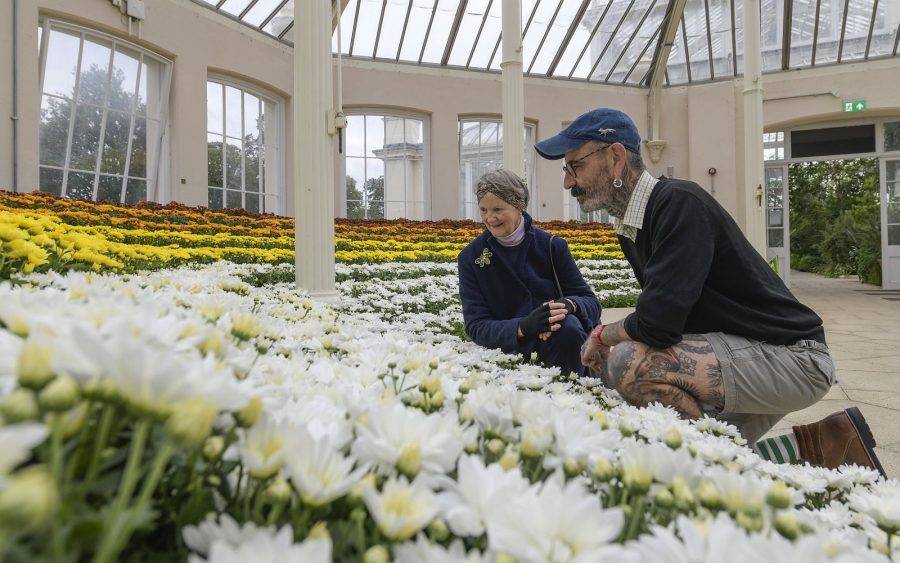 The best time to visit Kew Gardens will be at dusk and on weekends when Temperate House hosts live music and performances that respond to the art installations. Among the highlights are dance company Butoh UK, electronic musician DJ Anchorsong, and Japanese busker ICHI who combines his quirky handmade instrument inventions with steel-drum, ping-pong balls, typewriter, toys and other everyday objects. Meanwhile, shodō master KASHUŪ presents giant calligraphy performances, as artist Hanako Matoya teaches the ikebana rituals of flower arranging.
"Kew Gardens has a strong connection to Japan through our architectural features and plants in the gardens," says Paul Denton, head of visitor programmes and exhibitions. "The beauty and harmony of Japan is rich and fascinating, and the natural world is woven through Japanese culture in a unique and tangible way. We are honoured to celebrate the country's rich connection to nature through contemporary art, plant displays, food and crafts in a brand-new festival this autumn."
'Japan' is at Kew Royal Botanical Gardens, London, from 2 -31 October 2021