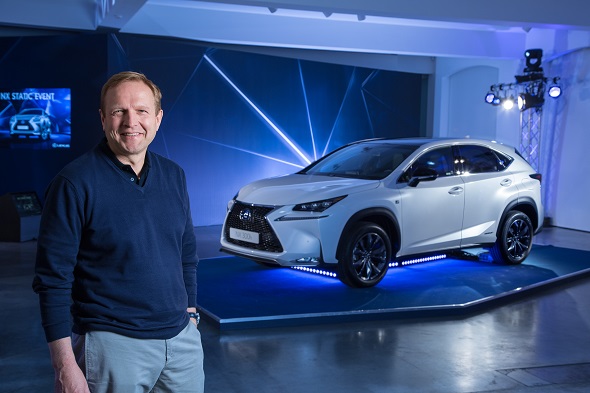 At launch, the Lexus NX SUV will be available with a hybrid engine, that mates a 2.5-litre Atkinson cycle petrol engine to an electric motor. Total power output is 195bhp, with a combined cycle economy figure of 54.3mpg. At present, there are no immediate plans to introduce a plug-in hybrid variant of NX or of any model in the Lexus range, as Lexus Europe Vice President Alain Uyttenhoven explained.
Uyttenhoven said: "We could put additional batteries in the boot of the NX, but right now you would need to put approximately £8,000 worth of batteries in this car to give a range of let's say, 30-50km. There is a tax-friendly environment in some countries for these sorts of vehicle, and the UK is one of them, but people attracted by these cars tend to live in cities, and then you have to ask yourself – when and where are you going to charge the battery?
"That said, if wireless charging technology develops, or if consumer demand for plug-in grows significantly and costs reduce, we could react very quickly."
He added: "At present, Lexus Hybrid Drive is the ideal powertrain for making driving a lot cooler and relaxed, and we offer a lot of power in our cars. At the same time, if you live in London, we bet that you could spend 50% of your drive time running solely on electric."
A hot topic of conversation between Uyttenhoven, Lexus blog, and assembled members of the motoring press at last week's launch, was Lexus' European sales targets, and plans for global growth.
Uyttenhoven revealed: "We plan to sell approximately 65,000 cars in Europe in 2015 – the NX will make 20,000+ of that figure. The biggest market for the car is Russia, and the second biggest is Britain. CT and IS are very important cars, and we'll make between 10 and 12,000 of each. There are some speciality models too; in Russia we sell as many LX models (a large 4X4) as we do CT models in the UK – 5,000. In Western Europe, 98% of Lexus models sold are hybrids."
To outline global growth plans, Uyttenhoven looked to the past, and explained how Lexus' roots in the US have come to define its division of sales. He also pointed to the vast array of markets that Lexus now operates in and shared with us, plans for dominance in emerging market China.
He said: "If we look at the history of Lexus, it started in 1989 with the launch of the LS 400, it was a big car and was extremely successful, then for the next 10 years, Lexus remained predominantly an American brand – it was not even sold in Japan. We now sell Lexus in 80 markets – 500,000 vehicles worldwide, of which 250,000 are US-based. Between now and 2020, I think you will see the US market continue to grow, but the catch-up from the other markets will be far more pronounced – China will become a big market for us as their vehicle tastes are similar to Europeans."
What do you think of the new NX? Are you as won over as we are about hybrid? Are you an RX owner and thinking of downsizing to NX? Or are you considering your first Lexus? Leave a comment below, we love hearing your thoughts.
In the meantime, further information about the NX is available here. You can explore our range here, and if you would like to arrange a test drive, leave a comment below stating your model(s) of interest, and we'll be in touch shortly.