Bold, bright and spot-on: how the LF-LC concept's cabin intelligently chimes with the latest interior design trends…
"To say the stunningly original cabin of the LF-LC concept reflects a new approach for Lexus interiors would be an understatement," writes Guy Bird.
Its mash-up mood of unusual colours, materials and wraparound surfaces – from unusually stitched honey suede on the curvaceous door panels to the bird's eye walnut-style finish on the centre console and carbon fibre-covered steering wheel – is an original combination for car interiors full stop.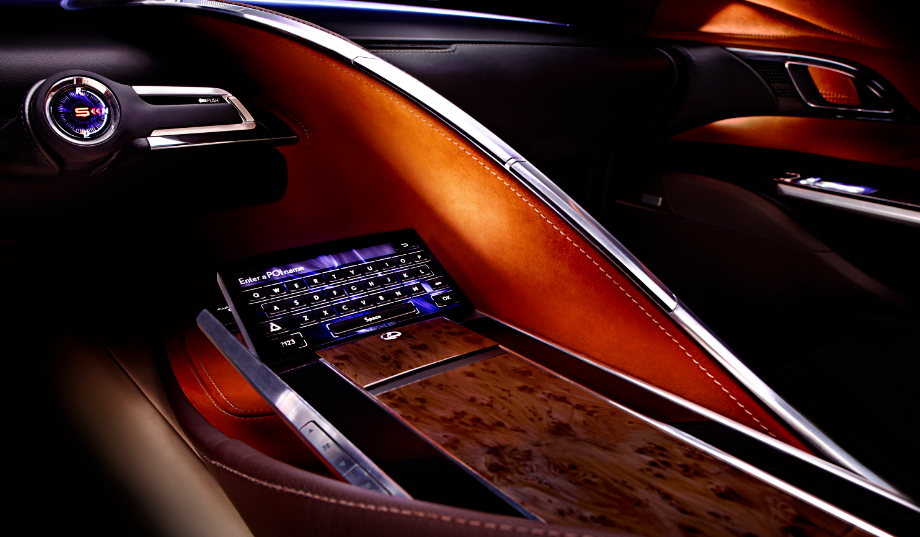 The treatment of the coupe's inside shape and surface also happens to be right on the money when it comes to broader interior design themes, fitting perfectly with one of the key autumn/winter trends for 2012 and 2013 identified by forecasting experts Worth Style Global Network.
WGSN calls the interior trend 'Hyperculture' and describes it as the blending of influences from diverse global cultures, as WGSN explains: "Because people share these cultures with others on the internet and in the street, they are creating a climate of Hyperculture – layer upon layer of different cultural elements that exist side by side in surprising harmony. Today we can imagine buying a Turkish rug made from European materials and manufactured in China."
The LF-LC cabin reflects just such an approach, as a luxury Japanese product conceived on the US West Coast but designed to sell around the world. Executed intelligently, the invitingly warm and light cabin manages to fuse the best of many styles into one convincing whole.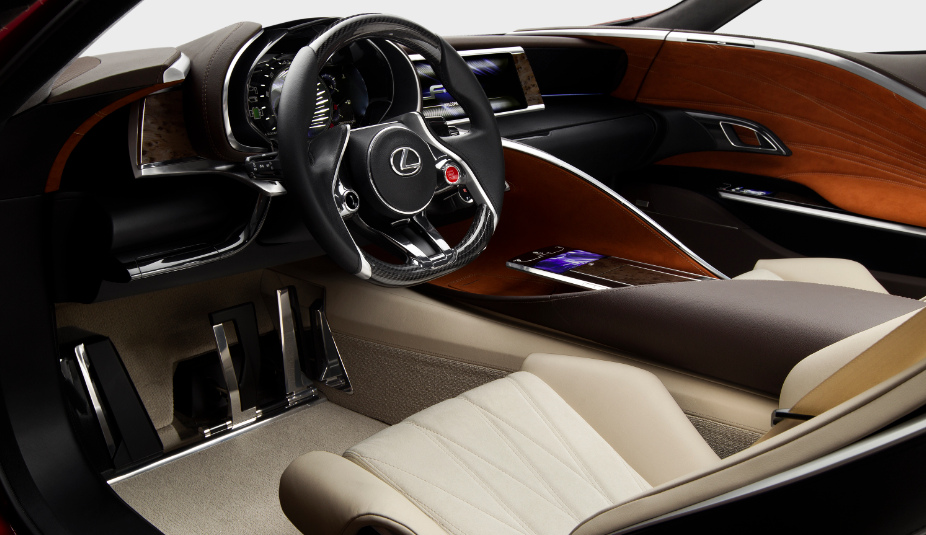 "Anything is possible", WGSN continues. "This super-hybridisation goes deep into materials and methods of production. Synthetics are mixed with naturals. Soft and hard materials are associated in innovative new ways. The timeless knowledge of skilled artisans is combined with the latest in industrial production techniques. The hand and the machine work together to develop products that have never been seen before."
The LF-LC designers are already on record as saying the concept was produced using man-made and computer skills and with a desire to juxtapose organic and mechanical elements together. It was a bold approach, as Kevin Hunter, president of Lexus's US design studio readily confides: "Believe me, we had many meetings where we were like, 'All right does this really work?' But we think it really does work alongside the exterior colour. Maybe it's the natural colour of the suede that helps. You would think it wouldn't."
He's right, the LF-LC cabin does really work, just as the design trend it reflects looks set to continue doing at its best for a good while too. As WGSN concludes: "Hyperculture is a global movement of mega-proportion, direction and dimension that mixes multiple cultures, times and techniques in endlessly inspiring combinations."
About the LF-LC:
The Lexus LF-LC hybrid sports concept made its global debut at the 2012 North American International Auto Show in Detroit, where it won the EyesOn Design award for best concept vehicle, followed by the 'Best Concept Vehicle' award a month later at the Chicago Auto Show. More recently, LF-LC has been nominated for a prestigious Concorso d'Eleganza design award.
For more images of the Lexus LF-LC, click here to visit our online photo gallery.
About the author:
Guy Bird is a freelance writer and editor specialising in cars and design for the likes of CAR magazine, The Daily Express, Wallpaper* and Car Design News. He attends the world's auto shows from Paris to Tokyo and has road-tested the vast majority of vehicles available in the UK over the past 18 years.