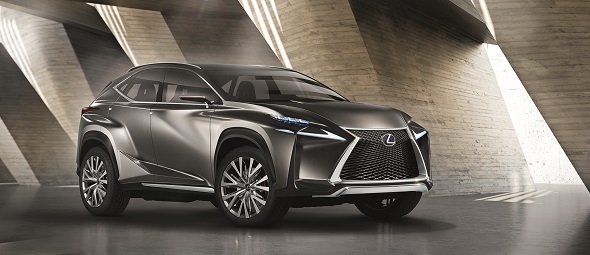 Take a look into the future of Lexus: these are the first pictures of the Lexus LF-NX crossover concept ahead of its debut at next week's Frankfurt Motor Show.
The stunning concept has already been hinted at in teaser images, and now we can finally uncover the car that is sure to wow the crowds at the show.
A vision for a mid-size Lexus crossover model, the LF-NX will be presented in a press conference at the motor show, to be held on Tuesday, September 10th at 12 noon GMT.
The LF-NX reinforces Lexus's leadership in hybrid power in the premium market, being powered by a new variation of the Lexus Hybrid Drive full hybrid system, tuned for SUV performance.
The powerfully sculpted styling reflects a further evolution of the L-finesse design language that influences the look of all today's Lexus models, particularly the new Lexus IS.
The cabin follows the "Human Oriented" element of Lexus's L-finesse design, presenting a dashboard divided between an upper display zone and lower operation zone – a format perfected in successive generations of Lexus models.
This enables intuitive interaction with the concept vehicle's next generation technology, including touch-sensitive electrostatic switches and a new touchpad Remote Touch Interface design.
The concept's status as a premium crossover is reinforced by carved metal surfacing around the interior, sophisticated blue instrument lighting and yellow and black leather upholstery with contrast stitching.
See more of our Frankfurt Motor Show coverage here.