The Lexus LF-LC concept has finally hit the road… And we've got the first footage of the car in action.
The LF-LC is currently touring design events across the world. This latest film was shot on the shore of Lake Como in Italy as part of the world famous Villa D'este concours competition. Villa D'este, one of the top luxury car events in the world, attracts a mix of new concept cars and classics from across the world to the garden of a spectacular mansion.
Designed by Calty, at Newport Beach, USA, this hybrid engined 2+2 coupe is designed to push the limits of style, performance and technology, and combines sweeping lines with dynamic angles to create a sleek silhouette wrapped around a driver-focused interior.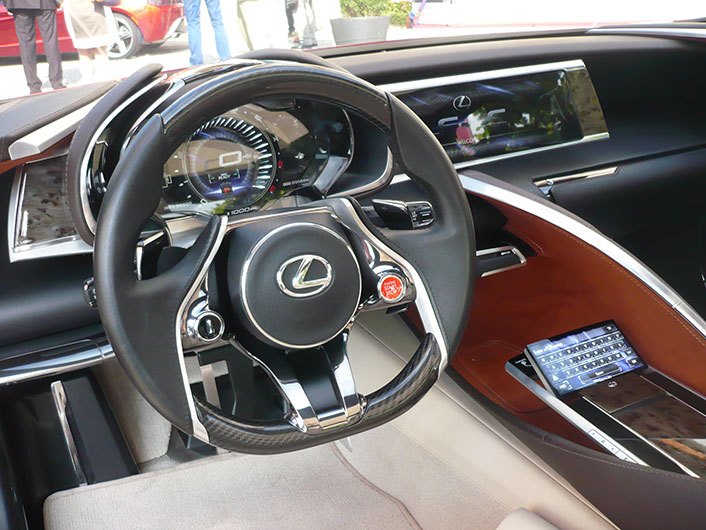 There are no official details about which hybrid powertain the car will use, but we do know that the car is front engined, and rear-wheel drive.
Based on Lexus' commitment to creating an intuitive driving experience, the LF-LC also incorporates a remote touch-screen device that allows the driver to operate the controls without shifting position or altering line-of-sight.
Twin 12.3-inch LCD screens provide information and navigation display. Inputs come from a touch-screen control board in the center console. Similar touch-screen surfaces on each door operate the windows, mirrors, seat adjustments and personal entertainment settings.
The instrument cluster layers analog and LCD technologies. The bottom layer displays temperature, fuel and the background for the Eco meter. The middle layer is the tachometer mechanical center ring. The topmost layer provides space for the speedometer and power consumption dials.
Lexus was represented by Kevin Hunter, President of Calty. Two designers from Calty (Ian Cartabiono for LF-LC exterior design and William Chergosky for interior design) were also present.
First held in 1929, the Concorso d'Eleganza Villa d'Este ranks today as one of the world's most enduring events celebrating the mystique of cars. During one weekend, the splendid grounds of the Grand Hotel Villa d'Este and neighbouring Villa Erba in Cernobbio on Lake Como serve as a unique stage for the most beautiful cars and motorcycles from the past and the most extravagant and innovative concept cars of today.
Lexus first displayed the LF-LC at the 2012 North American International Auto Show in Detroit, where it received the EyesOn Design Award for best concept car. The LF-LC was also elected Best Concept Vehicle by the visitors of the Chicago Motor Show in February, before making its European debut at the Geneva Motor Show in March.