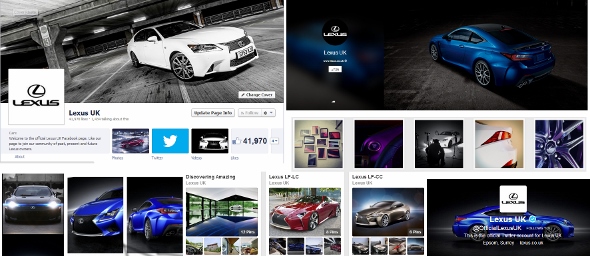 Ask any one of us on the social media team at Lexus UK what excites us the most about what we do, and the answer would be the same from all parties – creating and sharing amazing product news and content, and talking about it with our fans. We continue to make waves on Twitter, Facebook and YouTube, sharing everything from the legendary LFA lapping the Nürburgring , to explaining how Lexus Hybrid Drive works, and how to get the most out your Lexus hybrid, and now we want to share with you even more exciting product news, events, stunts, photos and competitions.
To do this, we'll be making greater use of some of our newer social channels, such as mobile app Instagram, social network Google+, and photo-pinning website Pinterest.
Whether you're a Lexus owner, red-blooded petrolhead, or have an eye for spine-tingling photography; you're sure to appreciate our official Instagram account. Among the highlights is a series of video snippets of the bespoke details that make up the interior of the Lexus IS, and a chance to hear the mighty IS F's throaty exhaust note – let loose at Lexus HQ last year. You can share your own Lexus photos with us by using @OfficialLexusUK.
Google+ has fast become the second-largest social media channel globally, with 343 million active users. The platform's seamless integration with mobile devices means it is a great way to access our news and features when out and about. Some of you may have noticed that members of the Lexus blog team now have Google+ linked-up to the articles that they author, meaning you can get to know each member a little better. This year, we'll be sharing on Google+ far more – see our latest posts here.
Last but not least, we're on Pinterest. Is there a Lexus model past or present that you covert and wish to share with us? Or would you like to see a round-up of all things Lexus from across the web? If so, our official Pinterest page is the place to be.
Is there something special you'd like us to do on social? Leave a comment below – we'd love to hear your suggestions.
Meanwhile, you can find information on all of the models in the Lexus range on the Lexus UK Website. If you'd like to get behind the wheel of any of the models in the range, leave a comment below stating which one, and we'll get back to you shortly.