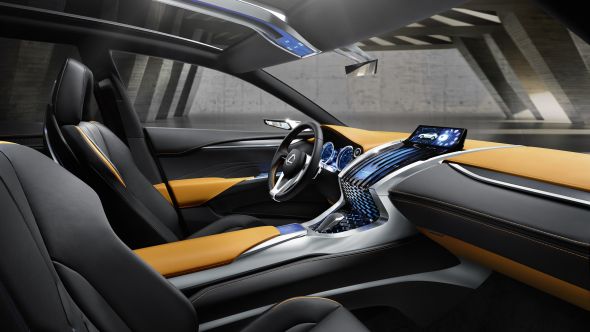 The Lexus LF-NX concept turns heads with its striking exterior. Yet a study of the interior builds on this design with an equally eye-catching driving environment.
It marks another forward step in Lexus L-finesse interior design, an evolution of the layout seen in both the LFA and new IS. Primary characteristics are the angling of all controls towards the driver and the dividing of the dashboard into an upper display zone and a lower operation zone.
Within this layout are bold, powerful shapes that wrap around the driver. Controls such as the touch-sensitive electrostatic switches and next-generation touch pad are placed within easy reach and designed to work intuitively. This interaction with the vehicle's switches, instruments and Human-Machine Interface technology is a key element of all new Lexus interiors.
In the LF-NX concept, the horizontal line of the dashboard is bisected by the contrasting brushed metal frame of the centre console, which extends the length of the cabin. This sculpted framework divides the rear bench into two separate seats, giving each passenger a snug, individual space.
Carved metal surfaces have also been applied to the main instrument cluster, steering wheel, outer seat structures and overhead console to reinforce the impression that the entire body has been carved from a single alloy billet.
Contrasting materials can be found throughout the LF-NX cabin, offering interesting textures and appearances. Two-tone leather upholstery with contrasting stitching combines with strong metal accents and high-quality plastics to deliver a bold, youthful feel that works well together as a whole.
Note, too, how the latticework inside the spindle grille of the LF-NX is echoed in the zigzag pathways within the illuminated centre console.
Whether every one of these ideas will translate into the finished product remains to be seen. But you can be sure that Lexus will equip its future compact crossover model with eye-catching design and a premium feel both inside and out.