Vehicles in the sports utility (SUV) segment are not normally known for their wind-cheating properties, primarily due to their more upright cabin architecture and raised ride height.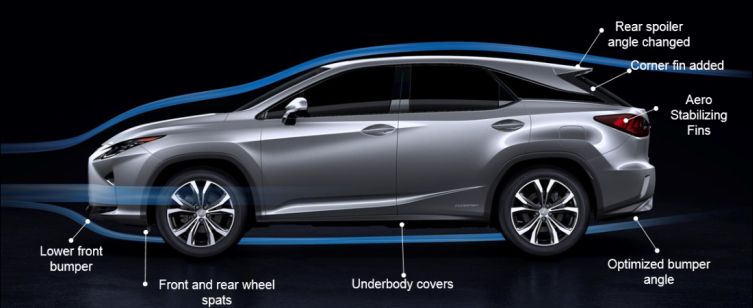 However, a number of aerodynamic measures have been incorporated into the design of the 2016 Lexus RX that not only improve its drag coefficiency and fuel efficiency but also contribute to the car's driving stability and low cabin noise.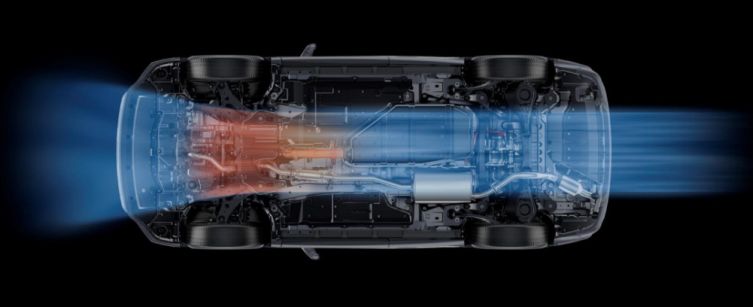 These measures include:
A lower front chin spoiler has been added to slice through air heading around the car from that passing underneath. Airflow passing under the car is further channelled by spats around the leading edge of the front and rear wheel wells, which serve to further suppress turbulence around the tyres. These elements endow the RX with a stable feel to the front end that is akin to that of a saloon car.
Flat covers are installed on the underside of the body to reduce aerodynamic drag and increase downforce.
Arrow-shaped corner sections in the front fascia beneath the headlights not only form an important element of the RX's lines but improve airflow along the sides of the vehicle. The flatter corners of the front bumper additionally serve to correct the airflow as it passes over the front wheels, minimising turbulence in the wheel arches.
The A-pillars have been carefully shaped to increase their rake and reduce wind noise during high-speed driving.
An anti-heterodyning system has been developed to prevent the fluttering noise often generated when the rear windows of a car are open.
Small fins protrude from the outer edges of the rear lenses for additional aerodynamic stability at the rear of the vehicle. This is in addition to a single blade-like fin rising vertically between the C-pillar and rear screen that helps to reduce the low-pressure area of trailing wake pulling on the back of the car.
A new rear spoiler design extends the roofline and hugs the glass area of the tailgate in order to reduce lift and add downforce.
The departure angle at the bottom of the rear bumper has been optimised. This is especially evident on the RX 450h, where the diffuser element helps to smoothly draw airflow from beneath the vehicle to reduce aerodynamic drag and improve stability.