Typical packed lunch fare such as pasties, soggy sandwiches and packets of crisps, can be bland and unappetising, so Lexus has teamed up with renowned chef Emily Roux to create some gourmet recipes that are perfect to eat in the car. Emily's carefully crafted, delicious creations are easy to prepare and perfect if your picnic has been rained off, or you're waiting for a ferry or Eurotunnel.
Emily has honed her culinary skills in some of Europe's most acclaimed restaurants and today is the co-owner of Caractère restaurant in London's Notting Hill. She has used her expertise to create simple recipes that can add an element of delicacy and luxury to your packed lunch:
Layered bread with ham, cheese and chives
Wasabi crab tart
Dark chocolate crinkle cookies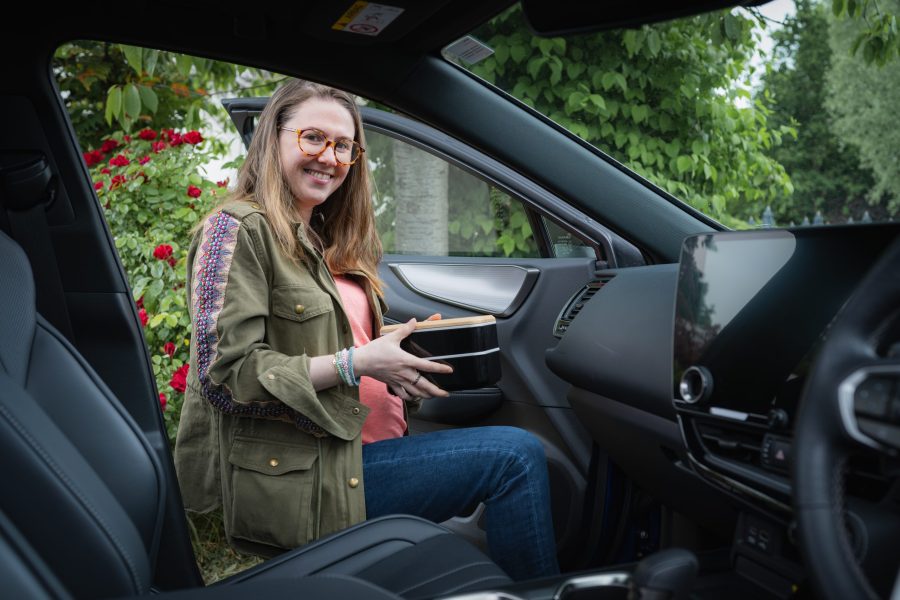 Emily is pictured enjoying her recipes in the Lexus NX 450h+ plug in hybrid model, a car that's ideal for exploring the great British countryside. This mid-size luxury SUV has great kerb appeal with its elegant design, spacious cabin and a generously sized load compartment. The latest Lexus plug-in hybrid technology means the NX can move on electric power for up to 61 miles in urban driving, while switching automatically to its petrol engine for longer distances on the open road.
Emily has put together top tips on how to create a mess-free packed lunch:
Plan carefully and be realistic about how much food you will eat to avoid the hassle of dealing with leftovers when you reach your destination.
Try to avoid containers that take up too much space and wrap items in parchment paper or aluminium foil rather than cling film.
It's a good idea to pop an ice pack into the top of your lunchbox if you are going to be in the car for some time.
Opt for nuts and dried fruit as snacks. They're perfect for an energy boost and less likely to cause crumbs.
If you have sweet cravings, why not bring a bar of your favourite dark chocolate, which is relatively mess-free, compact and won't lead to a sugar rush if you're stuck in traffic or on a long journey.
Layered bread with ham, cheddar and chives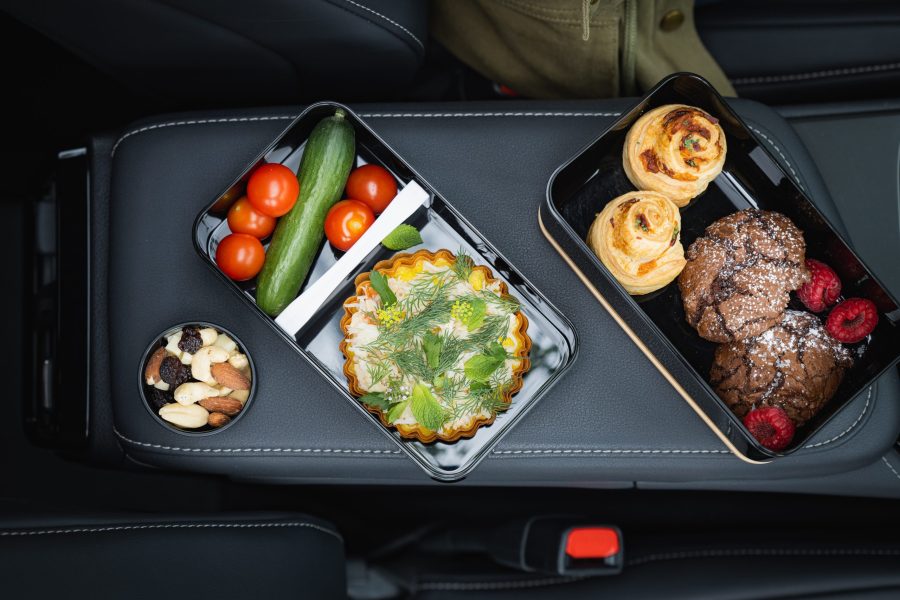 Ingredients
(Makes six individual swirls)
320g pack of ready-made puff pastry
30g chopped slow roasted ham
40g grated cheddar
1 sliced spring onion
white pepper (seasoning as you please)
Method
Roll out a rectangle of pastry roughly 30 x 45cm and evenly spread it with the ham, cheese and onion. Roll up the dough evenly and tightly, creating a long cylinder about 5cm in diameter.
Cut the roll into 4-5cm lengths to create the individual "swirls". Butter a cake tin and place one swirl in the middle, then add all the others around it, creating a flower-like pattern and without pressing the swirls too tightly together. If making individual swirls, cupcake moulds are great; alternatively, a 12-14cm cake tin is the best size for the "flower".
Bake at 190°C fan oven (375°F/gas mark 5) for 20 to 30 minutes until golden and crispy.
This recipe can easily be adapted to suit vegetarians and vegans by using vegan puff pastry and replacing the ham with olives, pesto, sun-dried tomatoes, or any alternative that takes your fancy.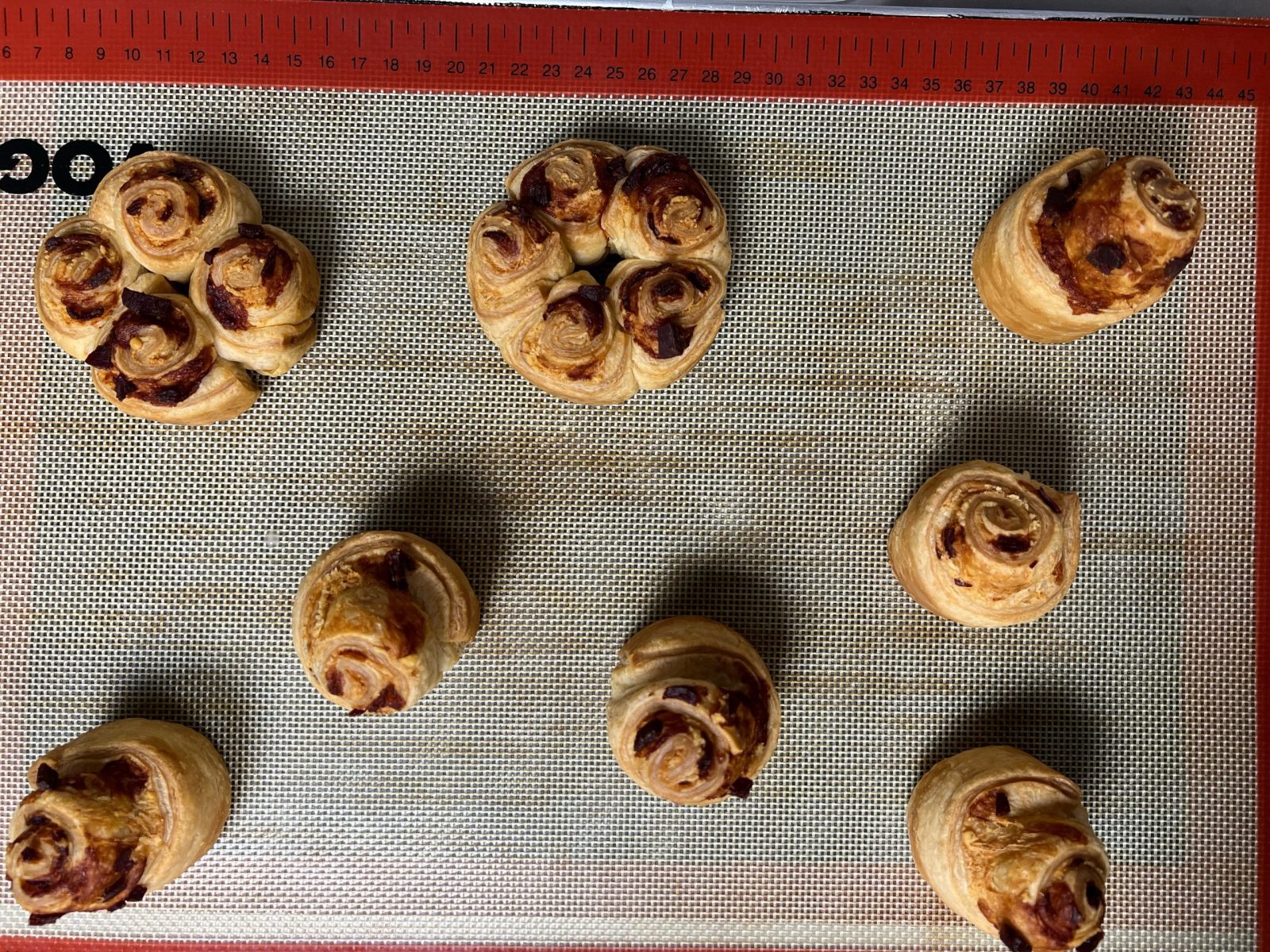 Chef Emily Roux recipes: wasabi crab tartlets
Ingredients
(Makes four to six individual tarts, 15cm in diameter)
Ingredients for wasabi cream:
250g double cream
70g milk
5g wasabi powder or paste
4g salt
2 egg yolks
1 whole egg
Other ingredients:
270g pack of ready-made filo pastry
20g melted butter (for brushing)
100g picked crab (white, brown, or mixed according to preference)
Zest of one lemon
Fresh chives, mint leaves, coriander, or other herbs to suit personal taste
Salt, pepper, olive oil
Method
Preheat your oven to 165°C fan oven (325°F/gas mark 4).
Brush each layer of filo pastry with melted butter, stacking at least four sheets on top of each other.
Press and cut the filo sheets to the dimensions of your tart moulds.
Bake each filo stack in the moulds, with pressure on top, for between seven and 10 minutes (or until crispy and golden). To create the weighted pressure, ideally use the same sized mould inserted one into the other; alternatively, baking beans will do the trick.
Leave to cool and lower the oven temperature to 140°C, fan oven (275°F/gas mark 1).
Meanwhile, use a hand-held blender to blitz all the wasabi cream ingredients together. Pass the mixture through a sieve for a smooth finish.
Once the tartlets have completely cooled, pour in the cream mixture, filling them to half-way.
Bake in the oven for a further 15 minutes until the mixture has cooked through and solidified.
Leave to cool – the tartlets are designed to be eaten at room temperature.
Season the crab meat to suit your taste and add any chopped fresh herbs that take your fancy.
Top the tartlets with the seasoned crab.
For a vegetarian alternative, replace the crab with mushrooms or courgette shavings and fresh herbs.
Chef Emily Roux recipes: dark chocolate crinkle cookies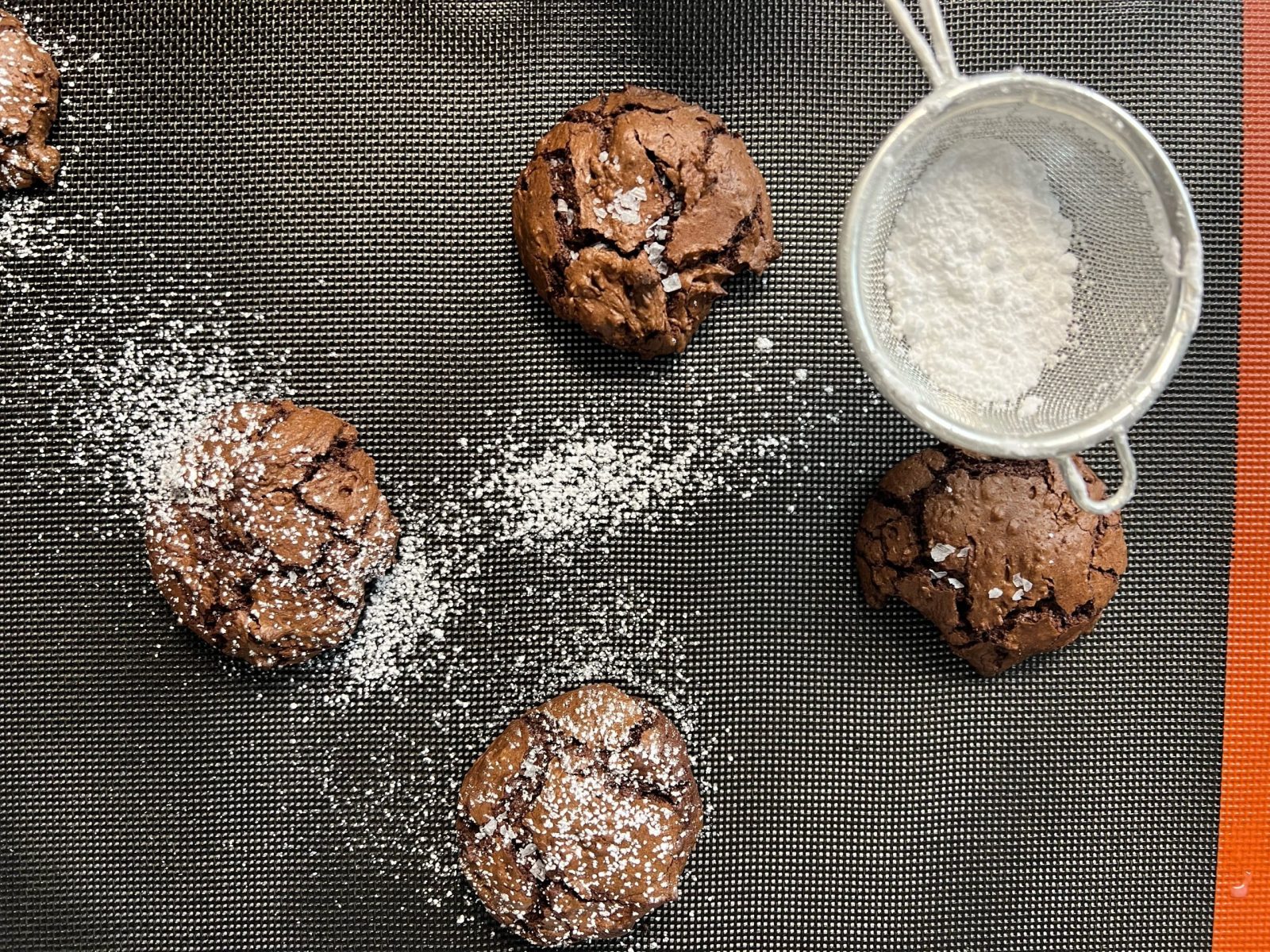 Ingredients
(Makes 15 small-medium cookies)
200g dark chocolate, finely chopped
125g unsalted butter, diced
150g caster sugar
100g light brown sugar
2 eggs
130g plain flour
3 tbsp cocoa powder
1 tsp baking powder
1 tsp sea salt (for sprinkling)
Method
Temperature and timing are very important with this recipe, so it is best to have all the ingredients weighed out before you start.
Place the butter and chocolate in a basin over a bain-marie or a saucepan of gently boiling water, ensuring the bottom of the bowl doesn't touch the water. Stir occasionally until the mixture is fully melted.
Remove the bowl from the heat and set aside. In the bowl of a stand mixer, whisk together the eggs and sugars on medium-high speed, for five minutes.
Once the eggs and sugar have been mixing for exactly five minutes, pour in the chocolate mixture and mix for a further minute or so to combine.
Meanwhile, mix together the dry ingredients, then add to the mixer bowl, mixing briefly until just combined.
Use an ice cream scoop to form the cookies. The batter will be a little on the wet side. Make sure to leave plenty of space between each cookie on the baking tray, as they will spread as they cook.
Sprinkle each cookie with a little flaked sea salt before placing into the oven and baking for 12 minutes. The cookies will come out of the oven with a wonderful, crinkled look and a slightly domed shape. They will collapse a little as they cool but this helps form that perfect fudgy centre.
Sprinkle on a little sea salt to taste and let the cookies cool for at least 20-30 minutes.
Read more: Chocolate tart recipe by Emily Roux