When researching the market prior to developing the new 2016 Lexus RX, owners of the outgoing model cited the vehicle's dimensions as ideal for their commuting needs. Lexus designers therefore made it a priority to keep the body size of the new fourth-generation car relatively intact, while improving interior packaging.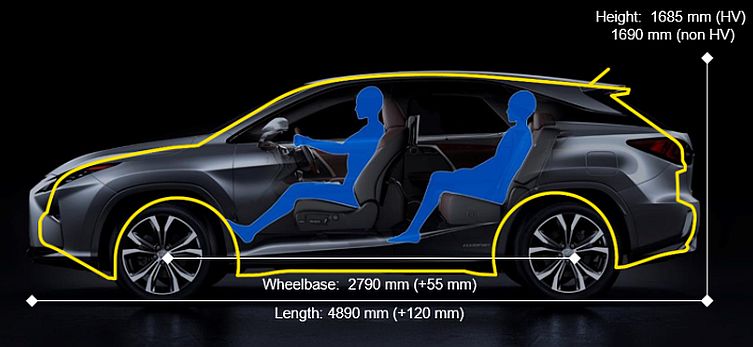 You can see how the silhouette has evolved in the illustration above, the yellow line being the shape of the outgoing model. But in specific terms, the height of the new RX is identical yet ground clearance has increased by 10mm. The width has also increased by 10mm and the overall length has grown by 120mm. Meanwhile, the wheelbase has been stretched 55mm, resulting in improved legroom with the same ample luggage space.
More space all around
The position of the front seats has been lowered by 19mm, allowing excellent headroom for both driver and passenger. As a result of this, the dashboard position has been lowered and the angle of the steering column has also been lowered by two degrees to reposition the steering wheel closer to the driver. These changes contribute to the interior's wide open and spacious feel, not to mention a more sport-oriented driving position – an attribute that will be appreciated by enthusiast drivers.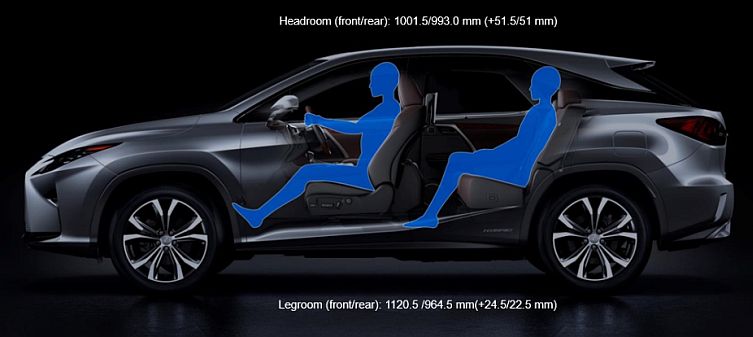 Optimised for five passengers, the new 2016 Lexus RX has a lowered floor section that helps provide rear seating accommodation and headroom comparable to that of the flagship Lexus LS saloon. In doing so, no sacrifice has been made to luggage space; the cargo area still has enough room to swallow four large suitcases or multiple golf bags.
Improved visibility
An important new design feature is an expanded field of vision through the windscreen and out over the bonnet. This improved forward visibility not only increases safety when driving but provides the driver with a more precise estimation of vehicle width. The broader field of vision is illustrated below, with the red line indicating the new 2016 Lexus RX compared to the blue line of the outgoing model.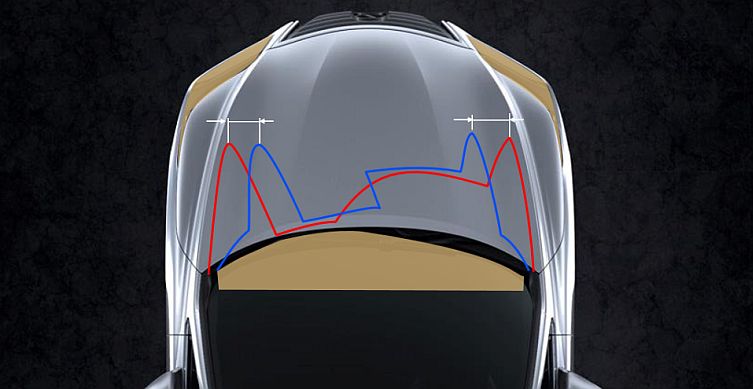 Key to achieving this was making the A-pillars thinner and increasing their rake for a cleaner, more minimalist appearance to both the interior and exterior design. In addition, the door mirrors have been located slightly further back to reduce the blind spot between the pillar and outside mirror.
Similarly, the C-pillars are narrower than before and the trims surrounding the rear doors are concave in cross-section in order to improve rearward visibility.
Learn more: Design of the 2016 Lexus RX explained