A series of stunning new images of the Lexus LF-C2 concept car  show the striking coupe in a Mediterranean setting for a feature in the latest issue of Beyond magazine.
And in an interview on Lexus International, Yasuo Kajino, the chief designer of the LF-C2, explains why the team chose the eye-catching yellow paint colour for the car that was revealed at the 2014 LA Auto show, despite it being not an easy colour to work with.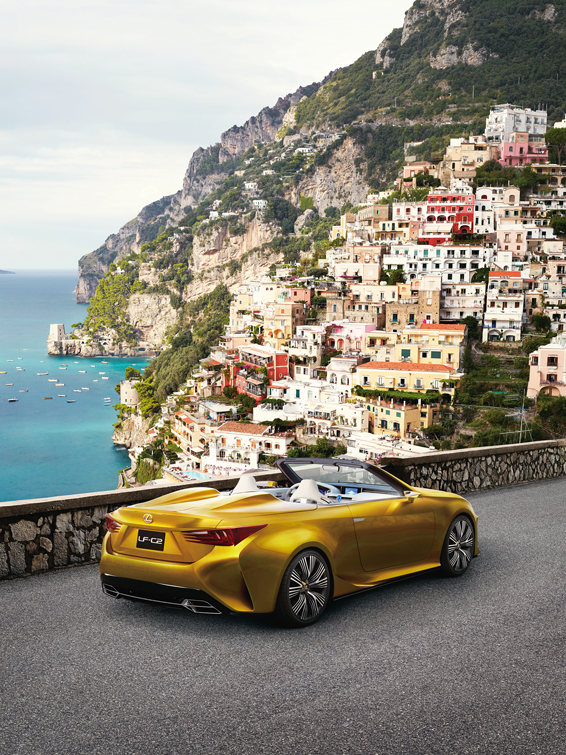 "We all agreed that using yellow was a must," said Kajino,"because the colour resonated with the emotional value of Lexus."
It took time and lots of experimentation to achieve, explained Kajino. The Lexus team used a primer coat followed by a silver layer they invented, a clear coat, then a yellow which reflects off the silver to create a brilliant lustre, followed by a top coat.
It's this that gives the LF-C2 its dazzling shine.
"Yellow has definitely breathed life into this vehicle" – Yasuo Kajino, chief designer LF-C2
"We've been instinctively drawn to and inspired by those things that capture the beauty of light. When you put something in the right light, people see it in a way they never have before."
The concept coupe was revealed at the LA motor show in November 2014. Designed to give the driver and passenger the best top-down driving experience, it has no roof or cabin covering of any kind.
The concept displays an experimental rendering of Lexus's signature spindle grille design, using a braided mesh effect which represents Lexus craftsmanship, and which changes appearance when viewed from different angles and in different light.
The grille sits between triangular LED headlights – a shared feature of Lexus sports cars – and indicator lights that initiate a character line that sweeps through the arrow-shaped body to the car's abbreviated tail section. Vents in the front bumper direct cooling air to the brakes and help manage airflow to keep the front end stable at high speed.
The profile displays a sweeping line from the front bumper fin to the steeply angled A-pillar. Small vents in the side sills direct air to the rear brakes, exiting through fin-like rear diffusers. The rear end features L-shaped tail lights, chrome-tipped quad exhaust pipes and a pronounced new rear diffuser design.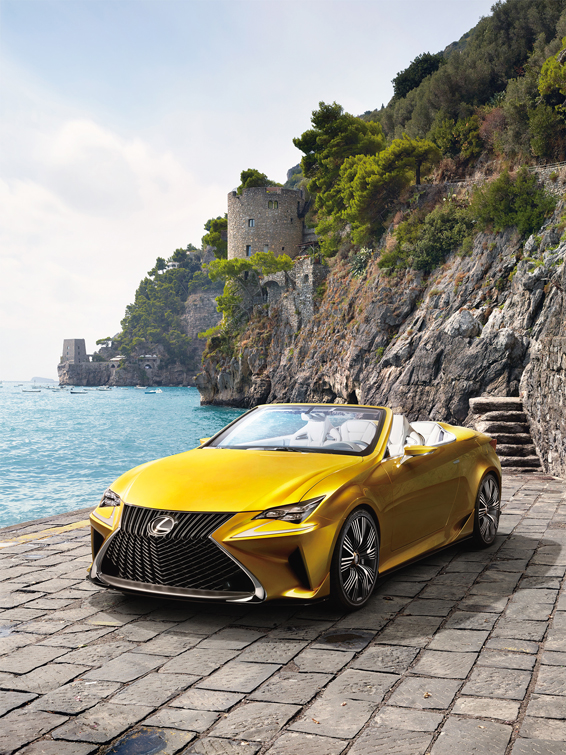 The cabin is spacious and luxurious, matching the sporting elegance of the exterior. In fact the exterior styling extends into the cabin, with the centre console originating from the rear deck in a line that runs the length of the cabin to the dashboard.
"We've implemented design features that demonstrate the seamlessness between the car interior and the outside world," says Kajino. "If you look at the rear, the trunk lid in the back merges into the center console and runs toward the front as one sheet of yellow metal, blurring the border between the interior and exterior."