The Lexus NX is without question one of the most anticipated models of 2014, and with prices starting at £29,495 and combined cycle economy of up to 54.3mpg, it's affordable too. But just how desirable is the NX? We got talking to visitors at the Hampton Court Palace Flower Show – where the model was appearing as part of Lexus' sponsorship of the event – to find out.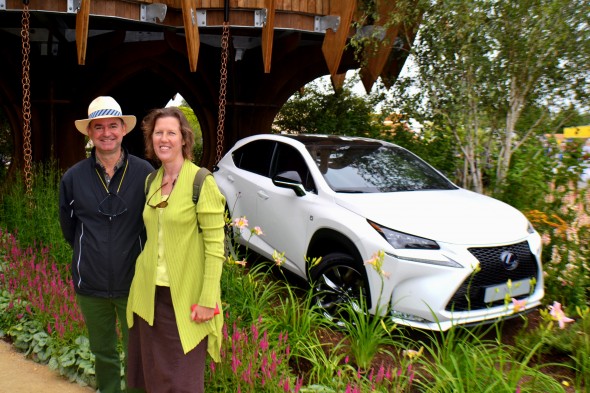 Ted and Alison Shelton
From: Hampshire
Occupations: Engineer and Sales Consultant
Lexus Blog: Ted, what do you think of the styling of NX?
Ted: It's a very stylish looking car. The front-end and the headlight detailing, as well as the grille descending down towards the wide skirt, look great – I'd be worried about having a bump in that! I can see executives saying: "I want something that's a bit funky, a bit different."
I like the way the bulbs are staggered back in the headlights so that you can see them more clearly.
LB: What do you think of the NX' £29,495 – £42,995 price range?
Ted: The starting price isn't a high as I thought it would be, and even the top model pricing is competitive when one considers the cost of rivals.
LB: Alison, what do you know about hybrids?
Alison: I'm familiar with hybrids and EVs as a friend of mine is an electric vehicle consultant and advises organisations and small businesses who are looking for a more environmentally friendly fleet solution.
LB: What sort of fleet case do you believe NX makes for itself?
Alison: I would the NX as being positioned at the top-end of the market in terms of quality and brand, and so would see it as an individual's car. Having said that, for larger businesses that want to have a fleet that provides the option of running on electric around town – the NX could be just the ticket.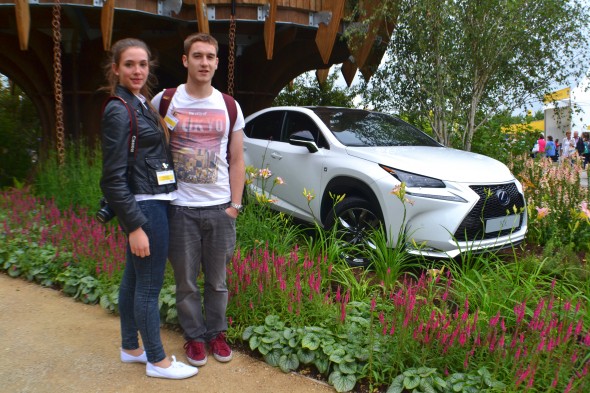 Luke Thomas (pictured with partner)
From: Leatherhead, Surrey
Occupation: Technician
LB: Luke, tell us your thoughts on the NX
Luke: I really like the overall look of the car – it's compact and the front-end is different in a good way. I really like the triangular shape of the front-end. I'd never seen a panoramic roof before and I think it looks brilliant.
The price is competitive, and visually it's really nice, and the front-end is massive – really meaty-looking and quite striking. Lexus says "America" to me but actually the NX looks European.
LB: What do you think about Lexus as a brand?
Luke: Lexus seems to be getting a lot more popular in the UK, some of the older models weren't so good-looking but the newer models are much more modern and stylish – there appears to be more of a focus on design.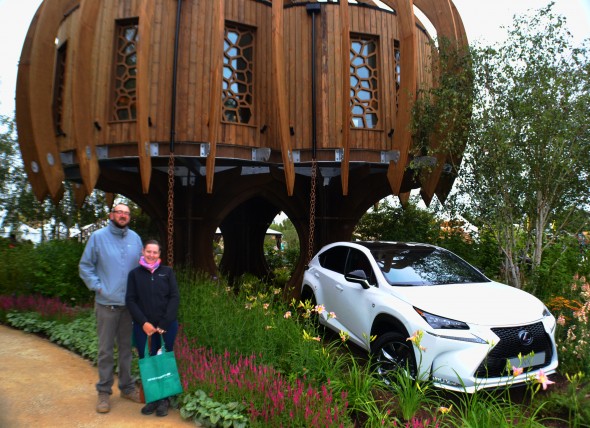 Ashley Grey and Liz Ford
Occupations: Horticulturalist and nurse
From: Croydon, Southwest London
Lexus blog: Ashley, tell us about the car that you drive now
Ashley: We drive a Honda Jazz at the moment. We purchased the car because of its economy figures, I drive between 300 and 350 miles a week, so I need something that returns good mpg, but the car is probably less economical than the NX, being a hybrid.
LB: Liz, have you driven a Lexus or a hybrid before?
Liz: I've never driven a Lexus before, in fact I don't think I've ever even been in one! I've not driven a hybrid before either but I want one.
LB: What do you think of NX?
Liz: The mpg figure is good, and surprising for what I'd consider to be a big car. I'm going to have car envy now – I'll have to badger Ashley for one!
Ashley: It looks great – the problem for me now though is that Liz will be sold on the car and I won't be allowed in it because in my job I'm always covered in mud!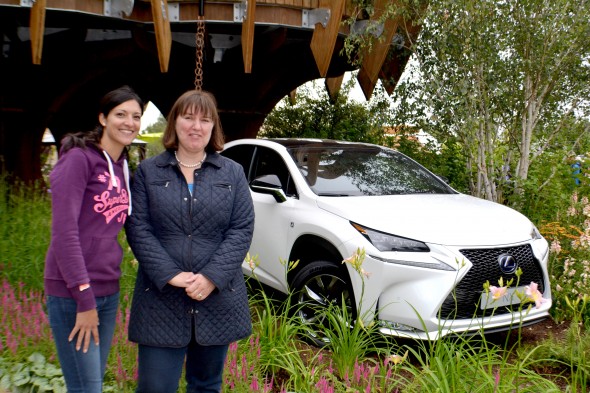 Janette Sunderland and Alice Nancy
From: Thames Ditton, Surrey
Occupations: Cynographer and project manager
LB: Janette, what are your NX highlights?
Janette: It's got a smiley face – I like cars that have got a smiley face! I've just changed my car and looked at Lexus – I was going to buy one in fact, the RX 450h. It's really good how the petrol engine and electric motor work in tandem, it means you're not going to spend a lot of money on petrol.
LB: Alice, what do you think of the hybrid powertrain underpinning the NX 300h on display at Hampton Court?
Alice:  I didn't know that you were able to run on electric around town in a hybrid and it's interesting how the car charges itself when you brake – it means that the electric range is extended. I think hybrid is a good idea, it's definitely the way to go nowadays – the miles-per-gallon figure is very good.
LB: And what about the looks?
Alice: The styling is very aerodynamic, and as Janette said it's got a smiley face – just look at the little dimples around the side!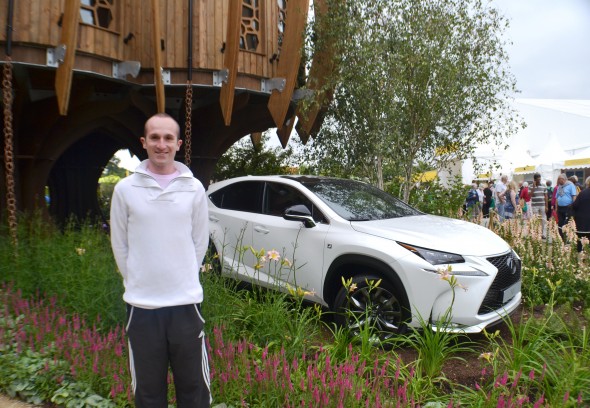 James Pate
From: Cumbria
Occupation: Gardener
LB: James, what do you think stands out most about NX?
James: The front-end makes quite an impact and I like the black and white colour combination, and the chrome – I love the chrome. I thought it would cost more than it does – it screams modern but it looks more like a supercar or a racing car. The car looks fierce at the front – it's not what you would usually expect from Lexus, save for an IS F.
LB: What are your thoughts on hybrid?
James: I think a lot of people will start to look at hybrid cars more and more in the future if they're going have the sort of design features that the NX has and still produce zero emissions around town.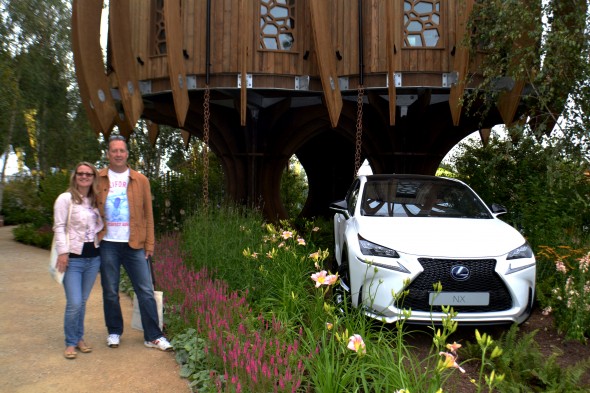 Isobel and Julian Tidmarsh
From: Guildford, Surrey
Occupations: Personal assistant and IT applications engineer.
LB: Isobel, tell us what you know about Lexus
Isobel: A friend of ours used to work for Lexus over in the South of France so we had a test drive in one and they were amazing. Honestly, the model we went out in was so quiet you didn't even know that the car was switched on. It was incredible.
The fact the Lexus range now starts at £20,995 (for the CT 200h) is very different to how things used to be.
LB: Julian, what do you find most surprising about NX?
Julian: (The price), I wouldn't have thought you could get one for under 30 grand. I bought my Audi A3 brand new and it cost £26,000 – only £4,000 less. We've known about Lexus hybrid technology for a few years, but the fact that Lexus is an affordable premium brand is something that I wasn't aware of.
LB: Can you sum up your thoughts about NX for us Julian?
Julian: It looks mean but I bet it's very quiet. The NX shifts perceptions about hybrid and I would definitely drive one; I work in Reading so having one would make my two-hour commute a lot more economical.
Where next?
Build your NX 300h here. If you would like to arrange a test drive, leave a comment below and we'll be in touch shortly.