The wait is finally over…the Lexus NX has arrived in the UK. To mark the occasion, we're showcasing the head-turning model at some of the UK's largest shopping centres.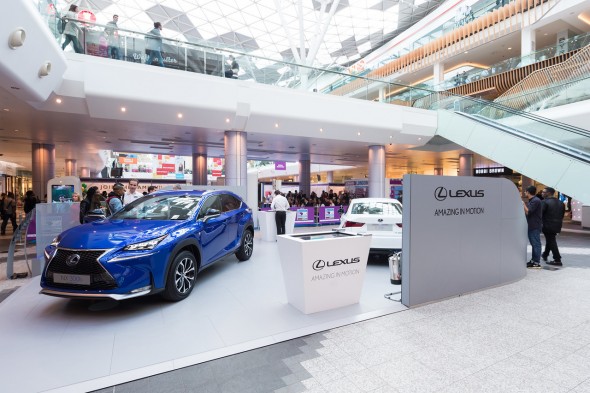 The first stop on our tour was Westfield London, so Lexus Blog wasted no time in heading down there, to find out what city slickers in Shepherd's Bush thought of the Ultra Blue F Sport model on display.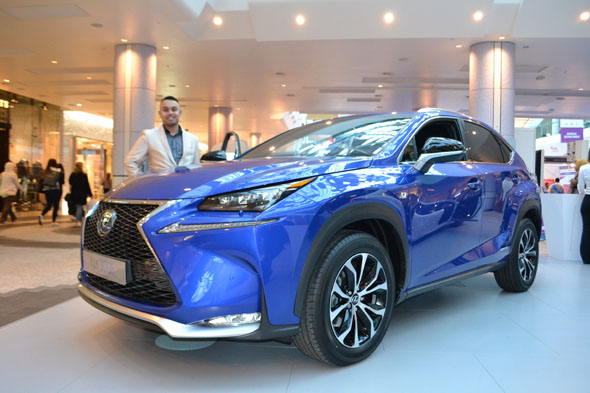 Abu Ahmed
Occupation: Public services officer
Lexus Blog: Tell us about your experiences with Lexus.
Abu Ahmed: I used to own an IS 200 and it was a great car. It is probably one of the best cars I've driven. In the fifteen years that I've been driving I've probably had a dozen cars and the IS is in my top three.
LB: Can you sum-up your thoughts on NX for us?
AA: I think NX is a great family car and the styling is great – I can see that a lot of creative work has gone into perfecting its look. The front-end is very different and unique. I've ordered a brochure already and as long as my wife approves and you do a white one; I'll be finding my nearest Lexus showroom and placing an order!
LB: Does NX' starting price of £29,495 surprise you?
AA: Yes, I would have expected it to be higher – in fact, looking at the car I would say that Lexus has under-priced it! At 29 grand I think it's a bargain.
LB: Hybrid: Yay or nay?
AA: Yay. Hybrid is the way forward. Show me someone who won't buy a hybrid car, send them to me, and I'll give them some advice!
LB: What do you think differentiates Lexus from rival manufacturers?
AA: Lexus has always gone outside of the box (in terms of design and engineering) and has produced cars that are very appealing. I think that anyone who is thinking of buying a Lexus should just go and snap it up – they shouldn't give a second thought.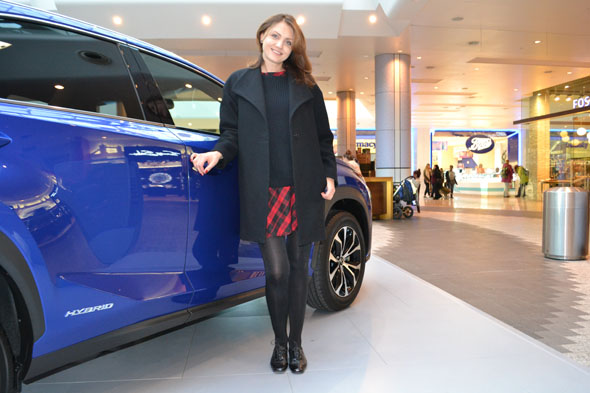 Maria Kasatkina
Occupation: Finance undergraduate
Lexus Blog: The NX has permanent all-wheel drive. What do you think of all-wheel drive cars?
Maria Kasatkina: I like them. I'm a keen driver and noticed the high ground clearance of NX.
LB: The lights of NX are modeled on the L-motif of the Lexus logo. What do you think of this styling feature?
MK: It's really nice. The lights are really bright too, (which help you to be seen better at night) safety is important to me.
LB: Which parts of the interior particularly stand-out for you?
MK: The chrome ringed dials and the leather dash.
LB: How would you sum-up the look of NX in one word?
MK: Sporty.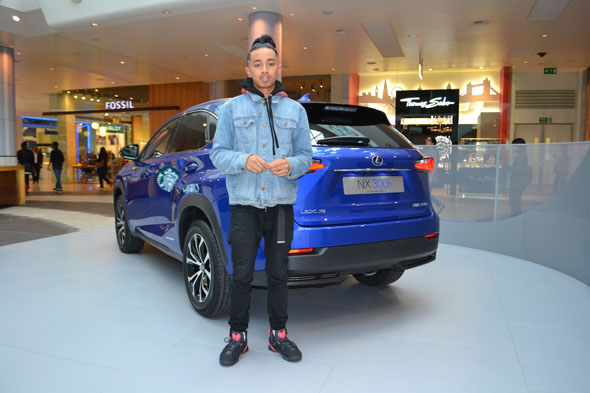 Zaldy Mires
Occupation: Fashion store department manager
Lexus Blog: What do you like most about the styling of NX?
Zaldy Mires: It's nice. From the outside the car looks big, but once you're inside it feels different and is very comfortable. I don't really like big cars, so it's nice that once you're inside everything is close to the driver.
LB: What technology fitted to NX do you think is most impressive?
ZM: The wireless charging mat and bird's eye camera.
LB: Does it surprise you that NX is a hybrid?
ZM: This is a hybrid!? Wow. It's not what you expect when you think of a hybrid. Is it really a hybrid!?
LB: What do you think of Lexus?
ZM: I like Lexus  – especially the LFA; it's beautiful. If I can afford an RC F when it comes out I'll buy one!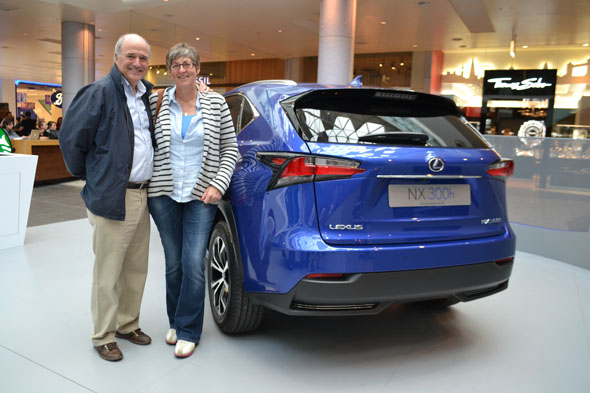 Maggie & James Pearson
Occupations: Practice nurse & company director
LB: What do you think of NX?
James: Today is the first time we've seen it. We actually had an invite to a special preview event from our local Lexus dealer in Hedge End. I've always had a company car, but my next car will be my own and something like NX could be just what we're looking for; it will give us a bit more room as we plan to do some travelling next year. It's a nice looking car and I like the fact that it comes in both two-wheel and four-wheel drive.
Lexus get everything right; I don't understand why there aren't more on the road.
Maggie: It's lovely. The level of standard specification serves as another reason why Lexus is so good – if you go to rival manufacturers everything is an option.
LB: Tell us about your experiences with Lexus
Maggie: We currently drive a CT 200h, which we purchased three years ago.
LB: James, what was your reason for purchasing?
James: We started off owning Toyotas and then moved onto Lexus. We had two IS and then we moved onto the CT for its low running costs and vehicle tax exemption. The reliability was key too.
LB: Are you happy with your car?
James: Yes, we love it. More than anything else, the reliability stands out; our CT has never been off the road.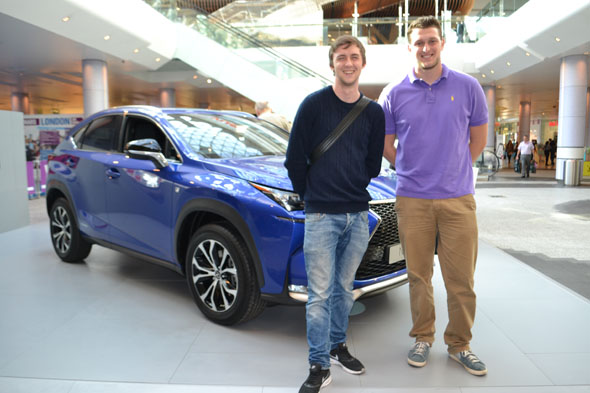 Edward Rennie & Tom Waller
Occupations: Sports management graduate & skipper
Lexus Blog: Tom, what do you think of the styling of NX?
Tom: It's a good-looking car, the proportions are neat and tidy – not too big and not too small.
LB: How does NX alter your perception of Lexus?
Tom: When you think of Lexus, you think of a more traditional saloon, whereas the NX is a bit more out there – I really like it.
LB: How do you think Lexus is developing as a brand?
Tom: I've noticed that Lexus is trying to diversify its range. Its moving beyond making solely luxury saloons, and is making cars that are more affordable like NX. In the case of NX, the styling will keep dads happy and the hybrid powertrain will satisfy mums.
LB: Edward, what features of NX are you particularly fond of?
Edward: The wireless smartphone charging mat is cool. The adaptive cruise control is pretty cool too, but I'm not sure I'd trust it!
LB: Edward, what are your thoughts on hybrid?
Edward: I think hybrids are the cars to have. Having something economical just works. There was a time when I think hybrid was seen as a bit of a downgrade , but I think they're the way to go right now – it makes sense.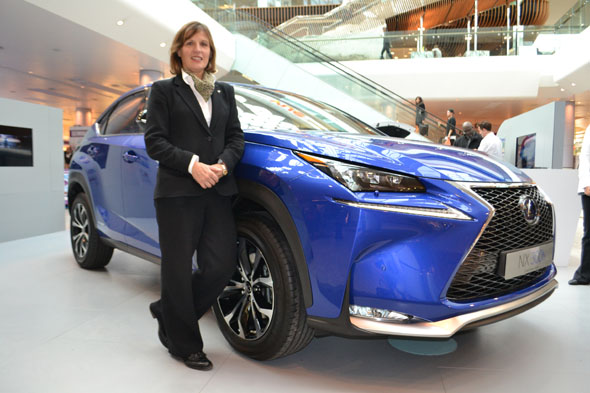 Jadwiga Paszkowska
Occupation: Customer services specialist
Lexus Blog: What do you think of the NX?
Jadwiga Paszkowska: I think it looks amazing. I love the colour – it's stunning – blue is my favourite colour for cars. I think NX would be out of my price range though.
LB: The NX starts at £29,495.
JP: Oh! Is that all? That's really surprised me – wow!
LB: What are your thoughts on hybrid?
JP: I think it's fantastic. I think that hybrid is the future – I didn't know that the petrol engine and the electric motor can work in tandem – I suppose that's what helps the car to achieve the combined 54.3mpg figure.
See also: 
World-first: General public share their thoughts on the Lexus NX
Lexus advocates speak up 
Where next?
The full NX 300h shopping centre tour schedule is outlined below:
Oct 31 – Nov 2 Brent Cross, London
Oct 31 – Nov 2 Drake Circus, Plymouth
Nov 14 – 16 Meadowhall, Sheffield
Nov 20 – 23 Bullring Centre, Birmingham
Nov 21 – 23 West Quay, Southampton
Nov 28 – 30 Glasgow (city-wide)
Build your NX 300h here. If you would like to arrange a test drive, leave a comment below and we'll be in touch shortly.