Having counted down the most popular Lexus blog posts and videos of the past year, our three-part commemoration of 2015 concludes with the more subjective matter of favourite photos. Countless stunning images have been taken of Lexus models throughout the world this year, and it would have been impossible to sort through them all. So we limited the selection process to images that were either taken, commissioned or sourced by the team here at Lexus UK during 2015.
The result is a collection of standout images that tells ten different stories. Some were quick opportunist-style snaps, others taken in long-drawn-out photographic processes after careful thought and planning. But all of them are special for one reason or another, which the accompanying text will hopefully explain.
10. Original 1990 Lexus LS 400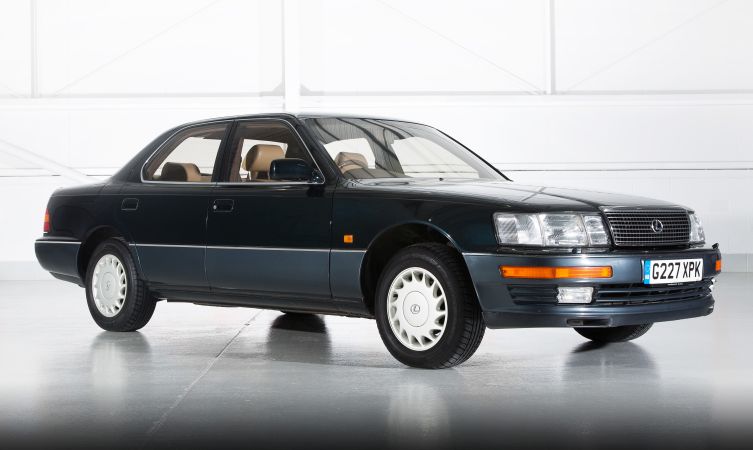 A great image doesn't always need to be artistic or dramatic. Sometimes it is about capturing a moment or an object for posterity. That was certainly the case here, for the subject matter is a 1990 Lexus LS 400 – the first of its kind in the country and one of two cars that Lexus UK displayed when the marque made its debut at the British International Motor Show. This all-original car is now back in the possession of Lexus UK and marks the start of what we hope will be a growing fleet of heritage vehicles.
Click this link to see the full image album
9. Lexus IS F by AimGain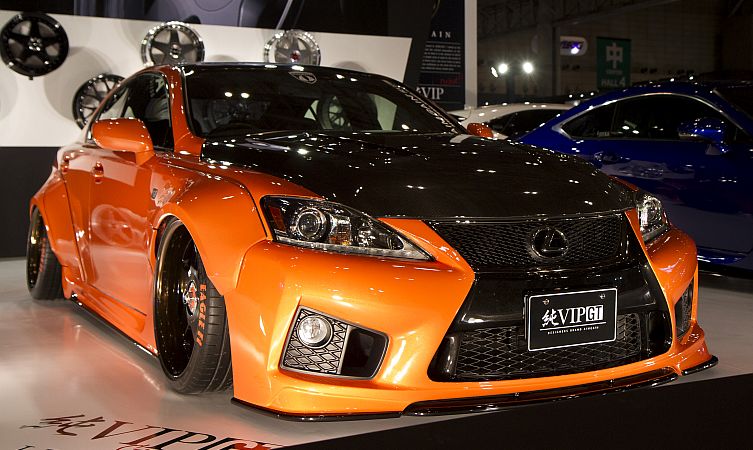 Unlike the image above, this shot is most definitely not of an original car. Snapped at this year's Tokyo Auto Salon, Japan's high-profile aftermarket and tuning extravaganza, it focuses on a Lexus IS F modified by the AimGain tuning house with a wide-body conversion, ultra-low suspension, Solar Flare paintwork and various carbon fibre goodies. Admittedly, this shot may aggravate the purists but we could not deny its impact, nor the influence of tuning culture within the worldwide car scene.
Click this link to see the full image album
Click this link to read our blog post on this year's Tokyo Auto Salon
8. Lexus RC F official press image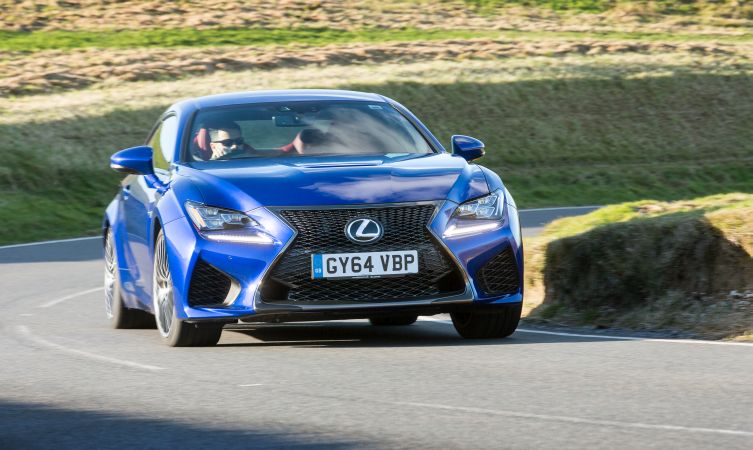 We always make a full selection of vehicle images available to the press in case they need to use them in their write-ups. These photos are usually descriptive in nature, placing the vehicles in an environment you would immediately associate with the model. Which in the example of the high-performance Lexus RC F means barrelling along a sinuous country road with clear sightlines, an earful of V8 and enthusiastic use of the throttle. Perfect!
Click this link to see the full image album
7. The luminous Lexus IS 300h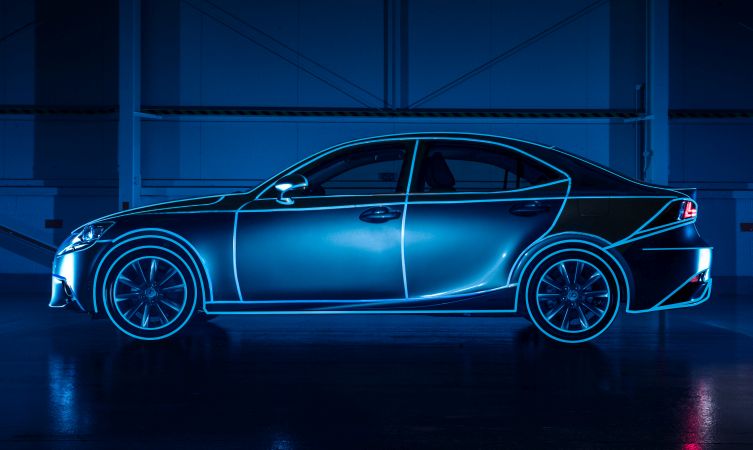 This year we conducted a series of experimental photoshoots that presented some of our models in intriguing new lights. This striking image was designed to highlight the complex and pin-sharp lines of the Lexus IS in a style not dissimilar to that seen in the classic science fiction thriller Tron. It was achieved by applying luminous tape to the model's shut lines and sculptured body lines – a total of 30 metres was used to achieve the full effect.
Click this link to see the full image album
Click this link to read our blog on the luminous Lexus IS 300h
6. The origami-inspired Lexus IS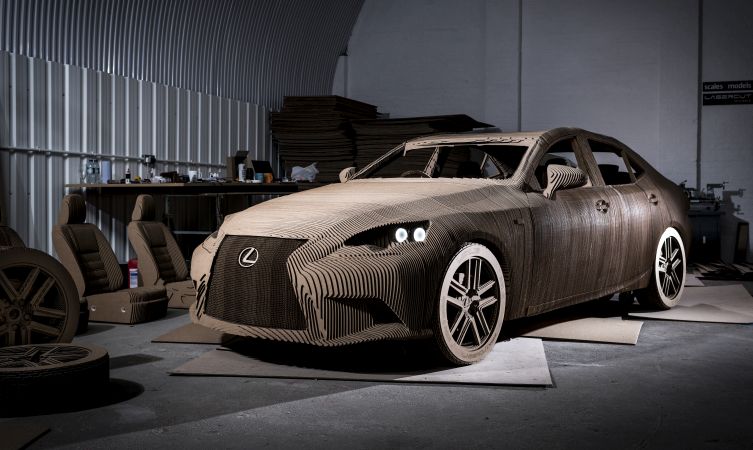 News of our origami-inspired Lexus IS project has spread all over the world. And while the accompanying videos have been particularly popular, we actually think the images we commissioned at the same time create a deeper impact because they allow you to linger over the incredible details. What's more, because of the non-reflective nature of the cardboard and the corrugations exposed on the cut lines, it swallowed our auxiliary lighting like a black hole, making the photoshoot something of a technical challenge.
Click this link to see the full image album
Click this link to read our blog post on the origami-inspired Lexus IS
5. The Lexus CT 200h nightclub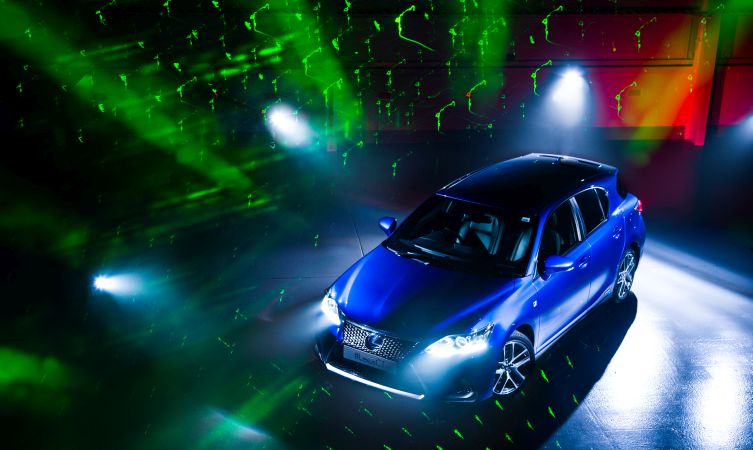 The second of our experimental photoshoots marks the halfway point in our top ten countdown of 2015. Key to its success was the careful use of light to create a nightclub ambience and fill the void that would otherwise be felt inside the vast warehouse location. A haze machine was used to reveal the beams of light from six portable LEDs located around the Lexus CT 200h, while a hand-held laser pointer was shone at different angles and the images captured remotely as the light patterns changed. Finally, the camera elevation was chosen to subtly echo the mezzanine levels and dance platforms that typify many nightclubs.
Click this link to see the full image album
Click this link to read our blog post on the Lexus CT 200h nightclub
4. Lexus RC F Carbon on the Transfăgărășan pass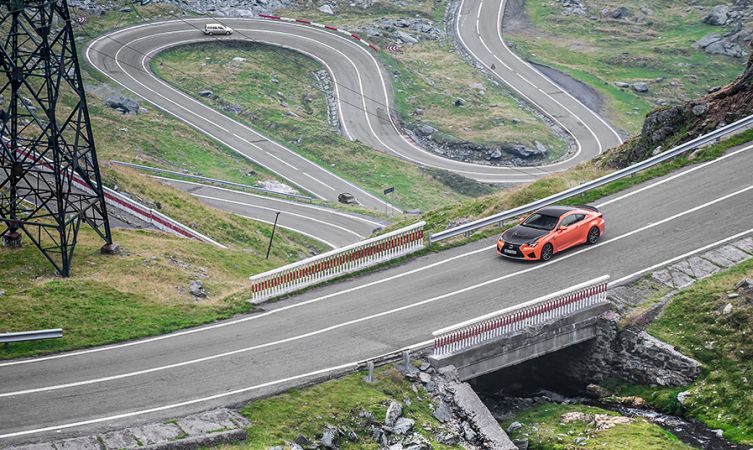 No, we're not sure how to pronounce it either, but what we do know is that the Transfăgărășan pass in Romania is widely regarded as one of the world's best roads. So while there are no special tricks with this image, we are convinced that its evocative nature makes it special. After all, we cannot think of a better model to take on such a road trip than a TVD-equipped Lexus RC F Carbon in you-can't-miss-it Solar Flare paintwork.
Click this link to read our blog post on this Lexus RC F Carbon road trip
3. Lexus NX on ice wheels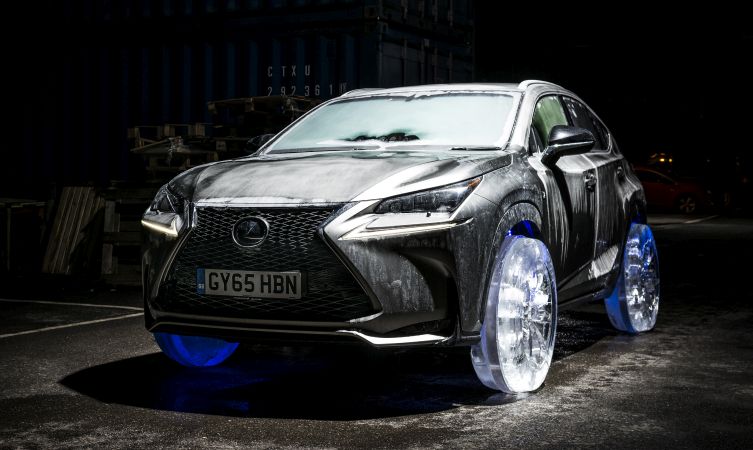 It's an image that forces a double-take. At first it's an attractive yet moodily-lit image of the mid-size Lexus NX luxury SUV, but then you look again and see the heavy frosting across the body and… no, it can't be… Are those wheels made of ice? Yes, our innovative and, dare we say 'cool',  follow-up project to the origami-inspired car was perfectly timed to jump on the festive bandwagon, but the original purpose was actually to reinforce a safety message about fitting winter wheels. As an aside, we can't help thinking that the strong overhead lighting of this shot gives the impression of an imminent alien abduction.
Click this link to see the full image album
Click this link to read our blog post on the ice-wheel Lexus NX
2. The Mr. Hyde Lexus RC F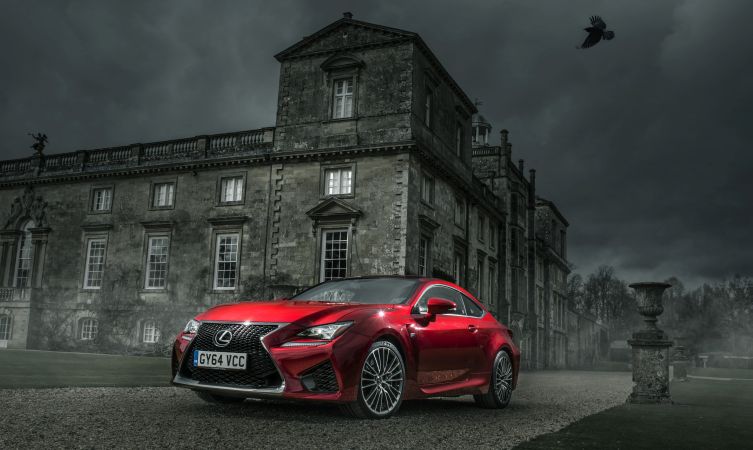 This image was one of a selection we produced with a distinct Jekyll and Hyde theme, because we felt it perfectly illustrated the two personalities of the Lexus RC F. On the one side it is every inch the gentleman, offering luxury, state-of-the-art technology, and a fuel-efficient Atkinson engine cycle for cruising. But under the bonnet you can unleash five litres and 471 horses of V8 fury running on the power-focused Otto engine cycle. As pleasant as the Jekyll-style images were, we felt the more atmospheric Hyde-style versions really brought this memorable shoot alive.
Click this link to see the full image album
Click this link to read our blog post on the Jekyll and Hyde Lexus RC F
1. Light-painting the Lexus LFA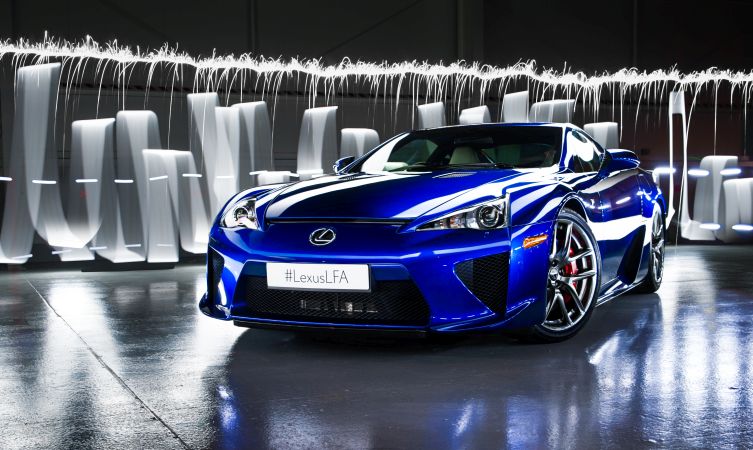 We've reached our number one image of 2015. No matter how many times we publish something about the Lexus LFA hypercar, our social media channels go into meltdown as enthusiasts lap up the content. This beautiful image was taken during the third and final part of our trilogy of experimental photoshoots, and marked our commemoration of the model's fifth anniversary. It was captured using a lengthy light-painting technique, which involves moving a hand-held light source – in this instance a small fluorescent tube and a sparkler – through a long exposure photograph to illuminate the subject or create a background of light. As far as we are aware, this was the first time such a photographic treatment has been used on the LFA.
Click this link to see the full image album
Click this link to read our blog post on the light-painted Lexus LFA
Read more: Top Lexus stories of 2015
See more: Top Lexus videos of 2015