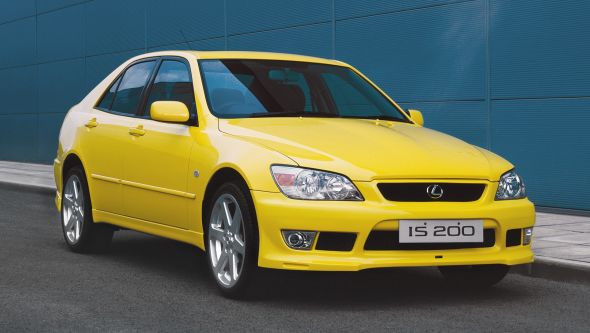 22nd May: 2003 Lexus IS 200 Amarillo
Do you remember the IS 200 Amarillo, the limited edition yellow rose of Lexus?
Arriving in strictly limited numbers in 2003, it was certainly hard to miss the IS 200 compact sports saloon when adorned in blazing Amarillo Yellow paint. But beyond the knock-out shade was a superbly-equipped model with an extremely tempting price point.
The IS 200 Amarillo was an IS 200 Sport in all but name, equipped with a limited-slip differential and a subtle body kit comprising boot lid spoiler, side skirts and front apron spoiler. The sporting look was completed with lowered suspension, dark-tinted rear windows and 18-inch six-spoke alloy wheels. But what made the Amarillo especially attractive was the price, which Lexus generously made over £2,000 cheaper than the equivalent Sport model with body kit.
Click the following link for your opportunity to officially name the dramatic new paint colour that will soon be adorning the Lexus RC F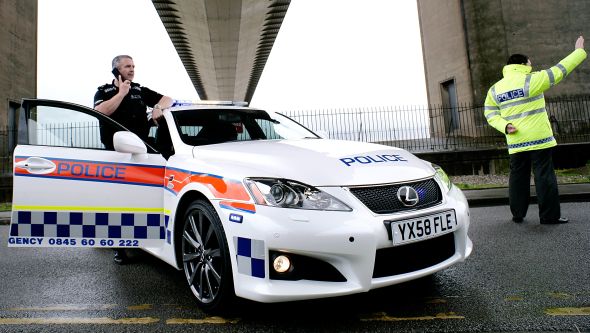 15th May: 2009 Lexus IS F police car
Back in 2009 we learnt that Humberside Police had spent 12 months evaluating a number of high-performance vehicles to enable its Roads Crime Section to target organised criminals in the area.
During this demanding process, the Lexus IS F was particularly singled out for its ability to deliver dynamic yet safe performance, together with an electronically stable platform capable of hauling around £30,000 of on-board computers and communications equipment. Sergeant Mike Peck of the Humberside Police commented that in the IS F they had found a car that offered the unit "a most formidable package… undoubtedly one of the most advanced police vehicles in the world."
With a performance-tuned 5.0-litre V8 engine under the bonnet capable of powering the car to 62mph in 4.8 seconds and on to an electronically-limited top speed of 168mph, it was felt that the Lexus IS F provided an effective visual deterrent as well as unbeatable performance in high-speed operations.
Read more: The power and control synonymous with the letter 'F'
Read more: The next-generation 'F' model
8th May: 2003 Lexus HP-X concept
As the originator of the luxury crossover segment, Lexus was keen to show that it was continuing to innovate within this sector.
The purpose of the dramatic High Performance Crossover (HP-X) concept was to look beyond current SUV formulas and define a vehicle that expressed strong emotional styling with high levels of performance, utility, comfort and luxury – themes that proved influential in the development of the second-generation Lexus RX. The HP-X was also notable for marking the first expression of a new, adaptable Lexus design philosophy, which soon afterwards became known as L-finesse.
The Lexus GS 430's platform and 4.3-litre V8 powerplant provided the performance backbone of the HP-X concept, allied to all-wheel drive traction and height-adjustable suspension set-up that allowed it to be both dynamic and offer a measure of off-road ability.
Read more: Lexus Future concept cars
Read more: History of the Lexus RX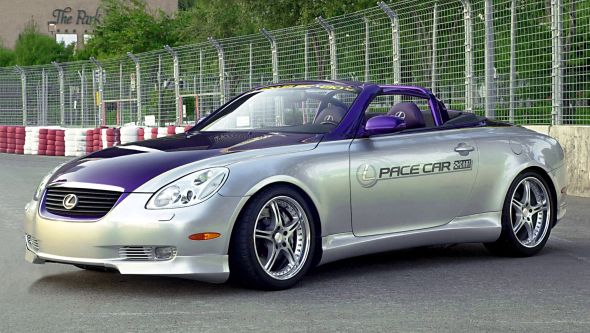 1st May: 2002 Lexus SC 430 pace car
Lexus has been competing in motorsport since 1999, but three years before the SC 430 model entered the GT500 class of Japan's Super GT series this 2002 model was showing a clean pair of exhaust pipes to a snarling field of 210mph racing cars.
No, the flagship coupe wasn't a fully fledged race car just yet. Instead it had been converted into a pace car for the Formula 1-style American Champ Car series by Lexus USA's Motorsports Technical Centre. It even appeared in the UK when the series returned to Rockingham Motor Speedway in September that year.
More than just an attention-grabbing two-tone paint job, a number of modifications were carried out to ensure the SC 430 pace car could achieve the increased speed and cornering control needed to stay ahead of a field of racing cars. In that respect the engine was boosted to an output of 312bhp for an even quicker start off the line, while race suspension and a new wheel setup was installed with staggered widths and diameters from front to back. Safety was also ensured with a full roll-cage, four-point harnesses, a new fuel cell and an on-board fire extinguisher system.
Read more: History of the Lexus SC
Read more: Lexus's latest GT500 car
See more from the Lexus archive here