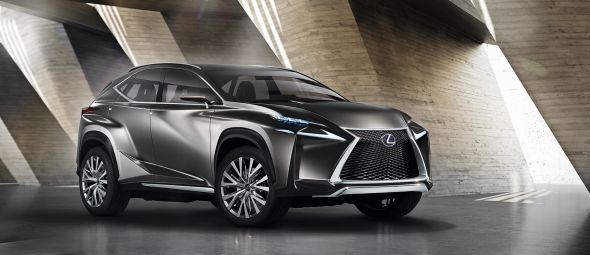 After it's widely-publicised debut at the Frankfurt Motor Show in September, the Lexus LF-NX has received huge coverage from the media, both for its design, technology and the statement it makes about the future of Lexus.
Now the UK's motoring media has had a chance to get familiar with LF-NX, particularly after its second public appearance in turbocharged form at the Tokyo Motor Show, it's time to take a look back at what they've written about it.
What did they think of the car, its styling, and the groundwork it sets for a new compact crossover model within the Lexus line-up?
Read on for our excerpts of their articles, and click the links for the full reports…
Matt Saunders, Autocar: "The LF-NX's exterior styling is a sounding board for several individual developments of features of the Lexus L-finesse design language. And both of the character lines along the car's flanks — the boomerang shoulderline and kinked lower feature line — have been exaggerated to create added dynamism."
Darren Moss, Autocar: "This latest version features a 2.0-litre turbocharged engine, the first [to be] fitted in a Lexus. The four-cylinder unit features the exhaust manifold integrated into the cylinder head which allows Lexus to optimise exhaust gas temperature to deliver improved performance and emissions."
Luke Madden, Auto Express: "In the metal, it's a truly striking car… bold design is the way forward in this class, and the good news is that previous concepts from Lexus – like the bold LF-CC, which became the IS – have made it to production relatively intact. [The] aim is for the LF-NX to stand out as the car in this class that other manufacturers admire."
Paul Bond, Auto Express: "[Lexus] claims the change beneath the bonnet [of the Turbo model] has lowered the centre of gravity (and overall weight) of its compact SUV and the latest car is visually distinguished thanks to an even more dramatic front splitter than runs along the bottom of the enormous 'spindle' grille."
Ollie Kew, Car: "The LF-NX shouts 'Japanese' in a way that Lexus… design of the last decade would never have seen coming. Inside, there's inspiration from the LFA supercar and new IS sports saloon, shown in the twin-tier dashboard layout."
Neil Briscoe: Car Enthusiast: "Lexus said… that the design of the [LF-NX] was supposed to push, break and probably set fire to the envelope of what people expect from a Lexus. Underneath all the sharp angles and panel direction changes lies the structure of Lexus's [compact crossover] competitor, and for the Tokyo Show Lexus updated the concept to include a first showing of its new turbocharged petrol engine. The unit is engineered for fast throttle response, yet demonstrates excellent fuel economy."
Matthew Hayward, Evo: "Designed to be a striking concept car, the LF-NX features a strong evolution of the current Lexus design language, including that trademark spindle grille. Lexus has tried to give the SUV a coupe-like appearance, with plenty of attitude."
Sean Carson, MSN Cars: "The LF-NX's interior is typical concept car stuff. That is to say it's full of unusual surfaces and interior highlights made from unobtanium."
Vijay Pattni, Top Gear: "It's suitably Star Trek inside, following the 'human oriented' element of 'L-finesse' design, and features an upper display zone and lower operation zone, complete with carved metal surfacing and blue instrument lighting."