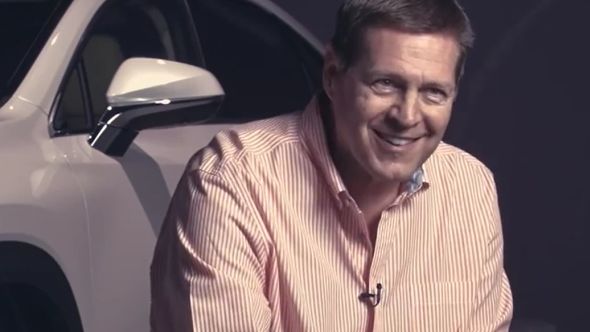 Lexus Blog: Thanks for taking the time to meet with us, Mark. It must be a very busy time for you at the moment. What is going on here in Tokyo?
Mark Templin: We've called it the Amazing Night. All of our partners from around the world have come and driven the Lexus NX, and they're really excited about it. That says a lot for the car: when they get excited about a product, you know it's going to be a hit.
Lexus Blog: Does that echo reactions from journalists at the global press preview?
Mark Templin: [The journalists] have written so many good things about its design; how much they like it, how compact the design is, and how it's the perfect size for the streets in most countries around the world. But they also write about how much interior room there is, how much rear legroom there is, how much cargo capacity it offers, and how you can fit four golf bags in the back sideways. It's the only one in its segment you can do that with.
Lexus Blog: Is there a particular comment that stood out?
Mark Templin: One of the best statements I heard was, "This may become the best-selling Lexus."
Lexus Blog: We hope that comes true, too. But can we ask what you personally like about the Lexus NX?
Mark Templin: It's one surprise after another, after another, after another. Journalists were blown away by the design; that's the first thing you see. But once you approach the car, you open the door and you get to see the inside, [you are] blown away by the craftsmanship, the attention to detail, all the technology inside the car. And then when [you] get to drive the car, [you're] impressed by our twin-scroll turbo and the nimble driving dynamics. When you take a combination of all those things, it gives us a reason to be really happy about the future.
Lexus Blog: On that subject, can we ask what else is happening in Lexus at the moment?
Mark Templin: Well, we are in the second season of our Lexus Short Films. We debuted them in Tokyo, New York and LA. They're being shown in film festivals all over the place, and they'll be on our website on 27 October. We also have our third annual Lexus Design Award that's out in the marketplace right now. We're accepting applicants, so all of you designers and creative folks out there, please apply. On top of that, we're right on the heels of the RC launch that will follow the NX. And just wait for some of the great things we have coming for our 25th anniversary.
Lexus Blog: Sounds like this is a really exciting time at Lexus, and we look forward to hearing more soon. Thanks once again for your time, Mark.