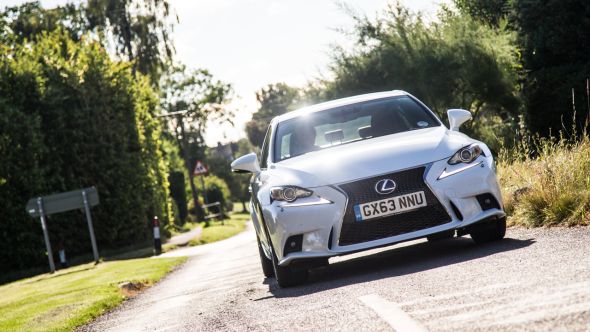 Ten months is a significant amount of time in which to get to know a car. The rose-tinted spectacles come off and you can evaluate the machine in the cold, hard light of everyday use. This is precisely the reason why motoring magazines frequently run long-term test vehicles, because it is an effective means of gauging what it is really like to live with a car.
In that respect, the December 2014 issue of Car magazine contains the final evaluation on the publication's ten-month tenure with a Lexus IS 300h. So what did road test editor Ben Pulman make of the car?
Though the IS 300h sits in a segment dominated by diesel engines, Ben praised its hybrid powerplant and noted how the electric motor "fills out the torque curve of the four-cylinder engine so it feels plenty pokey." He continued by saying that the "combination of electricity and petrol is smooth, refined and quiet, especially in comparison to the clatter of compression engines, and you never have to fill up from a stinky black pump."
Remembered as "an office favourite", Ben wasn't alone in recognising the positive qualities of the IS 300h. "The fact that our IS has racked up nearly 20,000 miles during the past ten months is the real indicator of how much we all really like this Lexus," he wrote on everybody's behalf. Praise was also forthcoming for the "pretty cool" interior with its LFA-inspired animated rev-counter, electro-static climate control switches and pin-sharp reversing camera imaging.
Clearly the Lexus IS 300h will be sorely missed from the office car park. "There's no better looking 'junior exec' on the market," Ben commented, "and short of an Aston Rapide, no better looking saloon, full stop." He then concluded his farewell by saying: "Essentially, we can't praise the IS highly enough."
The December 2014 issue of Car magazine is out now and you can read reports from the beginning of the publication's long-term test by clicking the following link.
See also:
Lexus IS 300h sees off Mercedes C300 BlueTEC Hybrid in Auto Express shootout
Slimming World fleet shapes up with Lexus hybrids
Lexus IS 300h Executive Edition announced