Want to contemplate high art by Damien Hirst while eating high quality food? Then you need to visit Mark Hix's latest restaurant the Tramshed, writes Guy Bird.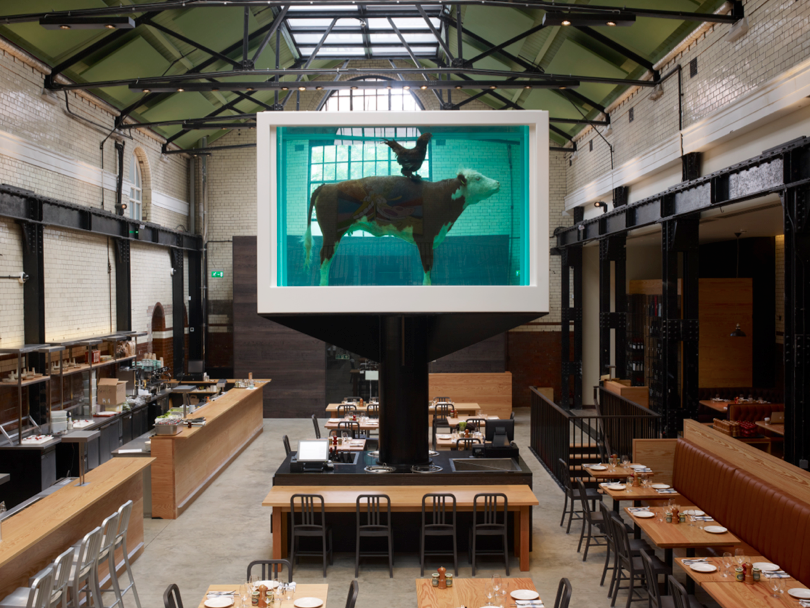 It's a great combination of two men at the top of their game. For celebrated chef Mark Hix, the Tramshed – based in Rivington Street in the heart of Shoreditch – represents his eighth venue. The ex-Ivy, Dorset-raised cook has one restaurant in Lyme Regis, just around the corner from his hometown of Charmouth and six others in London including the Hix Oyster & Chop House and Hix at Selfridges.
The Hirst connection comes through Hix's focused choice of menu for his latest venue. As chicken and steak are the mainstays of Tramshed's offering, Hix decided to commission Damien Hirst to make a special formaldehyde-filled tank featuring a cow with a cockerel on its back and fix the tank on a raised plinth in the centre of the restaurant. Call it British humour.
The menu is simple, using traditional British ingredients given a new twist. Three sharing starters include Yorkshire pudding with whipped chicken livers and smoked Cornish mackerel with mixed beets and horseradish, before customers choose either a Roast Wooley Park Farm free-range chicken and chips – served whole to share for two or three people – or a marbled Glenarm Sirloin steak and chips in 250g to 1kg sizes.
Lighter chicken or steak salads are also available if you're not feeling quite so ravenous. Either way, leave space for a similarly British selection of puddings that range from apple pie and custard to strawberries and cream. Kids eat free on early evenings on weekdays and noon-6pm at the weekend, which will take a helpful sting out of the bill for families.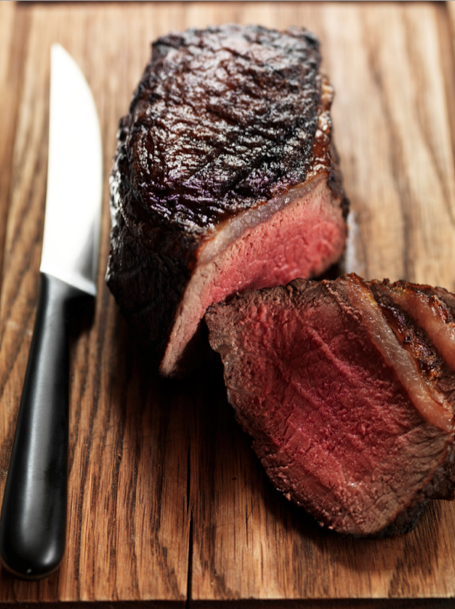 If you're wondering why such an upmarket chef might choose the unusual name of the Tramshed for his latest venue, it's all about history. The original use of the grade-2 listed building built back in 1905 was to generate electricity for the London tram system and the name stuck in more recent years when it was used for occasional pop-up art galleries and events and was kept by Hix too. Suitably then, even after its restaurant re-fit, its rugged industrial character has been retained.
The Tramshed is hoping to properly embed itself in the local community with a takeaway menu, a cocktail bar and monthly cooking demonstrations by Mr. Hix himself plus exhibitions in the basement. Far from an average meal out then.
Telephone 020 7749 0478 or see www.chickenandsteak.co.uk to book a table and see the latest information on menus, gallery shows and other events taking place at the Tramshed.
**Restaurant images – copyright Damien Hirst, 2012
**Food images – copyright Jason Lowe
Biog
Guy Bird is a freelance writer and editor specialising in cars and design for the likes of CAR magazine, Esquire, Wallpaper* and Car Design News. He attends the world's auto shows from Paris to Tokyo and has road-tested the vast majority of vehicles available in the UK over the last 18 years. www.guybird.com