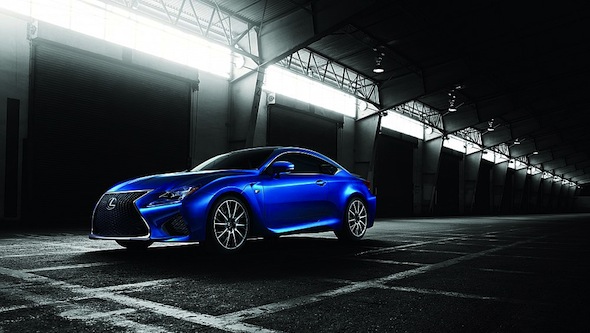 The Lexus RC F is finally out in the open!
The next Lexus super-coupe has been unveiled at the North American International Auto Show in Detroit, and full details on the car have been released.
* RC F equipped with the most powerful Lexus V8 engine to date, generating in excess of 450bhp
* World-first use of a Torque Vectoring Differential in a front engine, rear-wheel drive sports car
* Powerful exterior styling, incorporating advanced, race-bred aerodynamics
* Bespoke interior with dedicated RC F instruments, seats and finishes
* Debuts on the 25th anniversary of the launch of the Lexus brand
Lexus today revealed the RC F, a high-performance version of its new RC coupe, at the North American International Auto Show in Detroit. The unveiling coincided with the 25th anniversary of the launch of the Lexus brand at same event.
The dramatic visual impact of the RC F is matched by the impressive power of its new 5.0-litre engine. Generating in excess of 450bhp, it makes RC F the most powerful V8 performance model Lexus has yet produced.
To harness the engine's potential with the best possible efficiency, RC F uses a newly calibrated eight-speed transmission and, in a world first for a front engine, rear-wheel drive car, a Torque Vectoring Differential to secure higher levels of traction and vehicle control.
Yukihiko Yaguchi, RC F Chief Engineer, said: "I've built the RC F to be enjoyed by all enthusiasts, no matter what their level of expertise. There's a false perception that racing cars are hard o drive. In fact, they're easy in the right hands because they've been purpose-built for the skill level of their drivers. It's the same with the RC F. Electronics can be modified instantly on board to provide appropriate levels of performance and protection. But even at its basic setting, it's a blast!"
ALL-NEW HIGH PERFORMANCE ENGINE
At the heart of the new RC F is a 5.0-litre 32-valve engine developing more than 450bhp and 520Nm torque. Its cylinder heads and all moving parts have been newly designed to deliver more power at higher engine revs than has previously been possible.
It is also the first Lexus performance engine to use the Atkinson cycle at cruising speeds to secure better fuel economy, switching to the Otto cycle at higher revs to achieve impressive levels of performance.
The engine has been developed exclusively for the RC F and every aspect of the powertrain has been designed to deliver the highest possible driver engagement, including the transmission and exhaust system.
The specially calibrated eight-speed Sports Direct Shift transmission improves linear response to accelerator pedal inputs, giving the driver more precise control of power and torque delivery.
The RC F driving experience is further heightened by a new system that regulates induction and exhaust sound, creating a deep tone up to 3,000rpm, and a higher-pitched note as revs rise beyond 6,000rpm under hard acceleration.
TORQUE VECTORING DIFFERENTIAL
The RC F marks a world-first for a front engine, rear-wheel drive car with its use of a Torque Vectoring Differential. Designed to raise driving enjoyment by increasing traction and control, the system has three operating modes:
* Standard, for a balance of agile performance and high-speed stability
* Slalom, for an emphasis on nimble response to steering inputs
* Track, for consistent, stable cornering in circuit driving, with optimum driver control.
The RC F also features a recalibrated Vehicle Dynamics Integrated Management system with an additional G-force sensor to secure even greater vehicle stability.
DRIVING DYNAMICS
The foundation of the new RC F's outstanding mechanical grip is its highly rigid body, featuring large cross-section sill panels and front lower brace. Lexus has deployed numerous specialist manufacturing techniques to further enhance rigidity, including the use of body adhesives, laser-screw welding and multi-spot welding. A wider tyre and wheel assembly also help to raise grip levels.
Independent, coil-sprung suspension is used front and rear, incorporating monotube gas dampers and ball-jointed anti-roll bars. The car's unsprung weight has been strictly controlled by using 19-inch forged aluminium alloy wheels, which minimise wheel assembly mass while at the same time improving rigidity.
As in the Lexus LFA supercar, the RC F is fitted with an active rear wing, Incorporated in the boot lid, this provides additional downforce at speeds above 50mph. The rear wing is a highlight of the RC F's comprehensive aerodynamic grip and stability package, which also includes tuning of the flat underbody, race-bred air management ducts behind the front bumpers and wings, and strategic placement of aero stabilising fins.
F PERFORMANCE STYLING
RC F is immediately distinguishable from the RC coupe thanks to its more powerful visual impact.
It features a unique interpretation of the Lexus signature spindle grille, which dominates the front of the vehicle and incorporates a subtle 'F' motif within the mesh below the Lexus badge.
The front of the bonnet is set higher than on the RC, creating a powerful, flared profile that's in keeping with its status as a Lexus F model. The profile view is rendered more striking by the 10-spoke 19-inch forged aluminium wheels, three versions of which will be available, including one hand-polished by craftsmen.
The design takes some cues from the LFA, notably in the use of essential air cooling and aerodynamic features. Air outlets on the bonnet, like those on the LFA, work together with front cooling ducts to support both engine cooling and overall vehicle stability.
To the side there are air outlets behind the front wings that add to engine and brake cooling performance, and which merge neatly with side sill extensions to create an evocative 'L' shape.
The powerful look continues at the rear of the car, with stacked, quad trapezoidal exhaust outlets.
LIGHTWEIGHT CARBON FIBRE PACKAGE
Lexus drew on the experience it gained with the LFA and IS F CCS-R race car to develop a package of carbon fibre parts that help keep the RC F's weight to a minimum. Carbon fibre elements include the roof, bonnet and active rear wing.
INTERIOR DESIGN
The RC F's interior is driver focused and equipped with numerous components specific to the model, including the instrument meters, steering wheel, seats, pedals and trim, all designed to deliver the kind of comfort, support and ergonomics expected of a high-performance Lexus F model.
The instrument meters mark a further development of the switchable, driving mode-dependent central dial featured in the LFA. The design is inspired by aircraft cockpit instrumentation, providing a wide range of information in a clear, concise form that can be read at a glance.
The instrumentation includes a large, centrally mounted tachometer that changes according to driving mode; digital and analogue speed read-outs; differential torque vectoring monitor; G-force meter; oil and water temperature gauges; mileage information; and a stopwatch.
Lexus also worked to provide an ergonomically ideal driver-machine interface. The RC F marks Lexus's first use of a thick-grip steering wheel with an elliptical cross-section, design to provide greater control during performance driving. The location, shape and action of the paddle shifts have also been carefully determined to enable fast, accurate gearchanges at all times.
The seat designs, with styling influenced by modern close-fitting sportswear, feature high backs that use Lexus's integrated foaming technique to provide excellent support, eliminating any movement between the seat padding and trim.
LEXUS RC F PRELIMINARY TECHNICAL SPECIFICATION
Engine capacity (l) and configuration

5.0 V8

Max. power (bhp/kW)

˃450/335

Max. torque (Nm)

˃520

Transmission

8-speed Sports Direct Shift, intelligent electronically controlled automatic

Driven wheels

Rear-wheel drive

Seating capacity

4

Overall length (mm)

4,705

Overall width (mm)

1,850

Overall height (mm)

1,390

Wheelbase (mm)

2,730

Kerb weight (kg)

˂1,800 (target)

Brakes

Power-assisted Brembo discs

Wheels

Front – 19 x 9J

Rear – 19 x 10J

Tyres

Front – 255/35R19

Rear – 275/35R19

Estimated top speed (mph)

168 (electronically limited)
More from Lexus Performance
Lexus performance: fashioned by the wind
Philosophy of Lexus 'F' models
Lexus says, 'Quiet please'
Lexus champions people power
Lexus increases recycling performance
The performance of plastic
Lexus IS 300h – five-star safety performer
Performance and efficiency – how?
LFA 'Code X' to race at Nurburgring 24 Hours
Perfect partners: E-CVT and hybrid
Interview: Yukihiko Yaguchi
World debut of new Lexus RC F – first pictures
Lexus and the performance of hybrid
A closer look inside the Lexus LFA's V10
Lexus celebrates performance in January