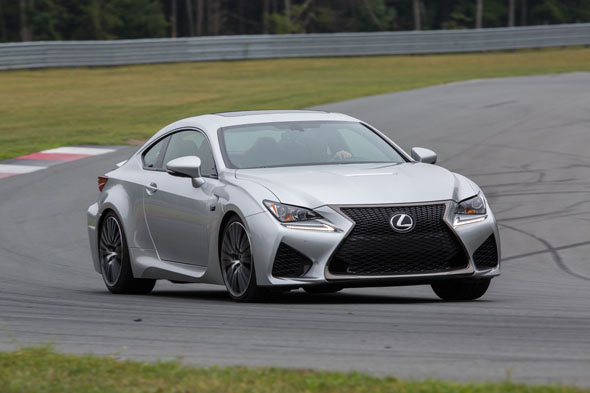 The Lexus RC F has been designed to be enjoyed by all driving enthusiasts, no matter what their level of expertise.
To this end, it is equipped with sophisticated, switchable technologies which allow instant modification of the powertrain steering and chassis to suit individual drivers' abilities and any driving environment, from the everyday commute to a high-performance track day.
Drive Mode Select
The eight-speed Sports Direct Shift transmission offers a choice of five selectable operating modes: Eco, Normal, Sport S, Sport S+ and Snow.
– Eco mode promotes environmentally responsible driving by controlling engine output, throttle opening and air conditioning settings to minimise fuel consumption. Engine response to accelerator inputs is automatically modulated and the air conditioning system's compressor operation, airflow volume and recirculation function are adjusted for fuel efficiency.
– Normal mode is the default Drive Mode Select setting, automatically engaged on vehicle start-up.
– Sport S mode includes a new G-sensor AI-shift control, which uses information from the vehicle's G-sensors to select the best gear ratio for high-performance sports driving. The transmission will automatically downshift during hard braking for a corner, hold a lower gear through the corner for greater control, and then select a suitable low gear on corner exit to give the driver greater throttle response.
– Sport S+ mode builds on these sports driving benefits by performing quicker downshifts than Sport S and by consistently holding the engine at higher speeds. In addition, Sport S+ automatically adjusts the weighting of the electric power steering to better suit circuit driving conditions and activates the VDIM system's new Sport mode.
The driver can also take manual control, moving the shift lever into M mode and using the paddle shifts or the lever to make sequential gearshifts. Up-changes are accomplished in just a tenth of a second, with throttle blipping control matching the engine speed to the gear selected.
VDIM with new Sport and Expert modes
The RC F is the first Lexus to feature a new Sport mode in its Vehicle Dynamics Integrated Management, and a new Expert mode, in which the system will only intervene to help prevent the vehicle going into a spin.
VDIM integrates the ABS, Vehicle Stability Control and traction control to provide proactive, seamless operation of the vehicle's safety and stability systems. It anticipates any loss of traction and provides smooth control, from normal driving right up to the limits of performance.
In the RC F, VDIM has four modes: –
– Normal, for smooth driving and a high degree of active safety under normal driving conditions.
– Sport, to give priority to driver control. This mode offers greater safety and enjoyment when on a race track, applying optimum VSC/TRC mapping for circuit driving.
– Off
– Expert mode, which is designed to allow the driver to make full use of their driving skills in a similar fashion to VDIM Off mode, but with an extra layer of protection to prevent a spin.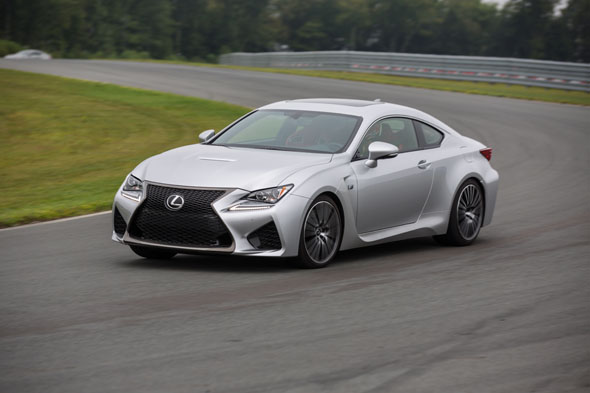 Torque-Vectoring Differential
The RC F is available with a Torque Vectoring Differential (a standard feature on the RC F Carbon), a world-first application of torque-transfer type system in a front engine/rear-wheel drive vehicle.
The TVD has three switchable operating modes, independent of the transmission's Drive Mode Select: –
– Standard (default) for an ideal balance of agility and stability
– Slalom, for an emphasis on nimble steering response and the agility of a smaller vehicle
– Track, for an emphasis on stability during high-speed circuit driving
The Lexus TVD is unique in its use of precisely controlled multi-plate clutches to vector torque, rather than the vehicle's ABS.
Electronic control and precision actuator motors, adjusted in units of one-thousandth of a second, ensure the appropriate amount of torque is distributed to each rear wheel.
The system has been designed to make best use of the vehicle's yaw moment when turning, giving the feeling that the direction of travel and the direction of the vehicle are perfectly aligned. It enables the best possible torque transfer to be generated regardless of how great or small the engine torque is, creating a yaw moment around the car's centre of gravity.
Vehicles fitted with the TVD have an exclusive final drive unit and TVD ECU, which calculates the amount of torque to be transferred and provides co-operative control with other systems, including the VDIM.
The RC F is available to order now, priced from £59,995. First customer deliveries will be in February.
See also:
Lexus RC F: Performance for all
RC F: Lexus most powerful V8 engine
Lexus RC F: Functional beauty
Lexus RC F: Engineered for grip and agility
Lexus RC F UK prices and specs