We thought our competition to spend a day driving the 5.0-litre V8 Lexus RC F around Silverstone, the home of the British F1 Grand Prix, would be popular – and so it proved.
The lucky winner was Paul Cushion (below, left), an IT consultant and father-of-two from Redhill, who currently drives an RX 450h. Paul's prize was the opportunity to drive at a track day on the famous circuit, accompanied by driving coach James Littlejohn. James is a successful racing driver in his own right, with over 70 wins under his belt in his 10-year career as a professional driver.
Paul had never driven on a track before, although he had prepared for the Silverstone experience by practising the circuit's layout on his son's Xbox – he put in a lot of hard (virtual) laps, only for his 14-year-old son to instantly beat him at this first attempt. That rather reinforces the view that motorsport is a young man's game…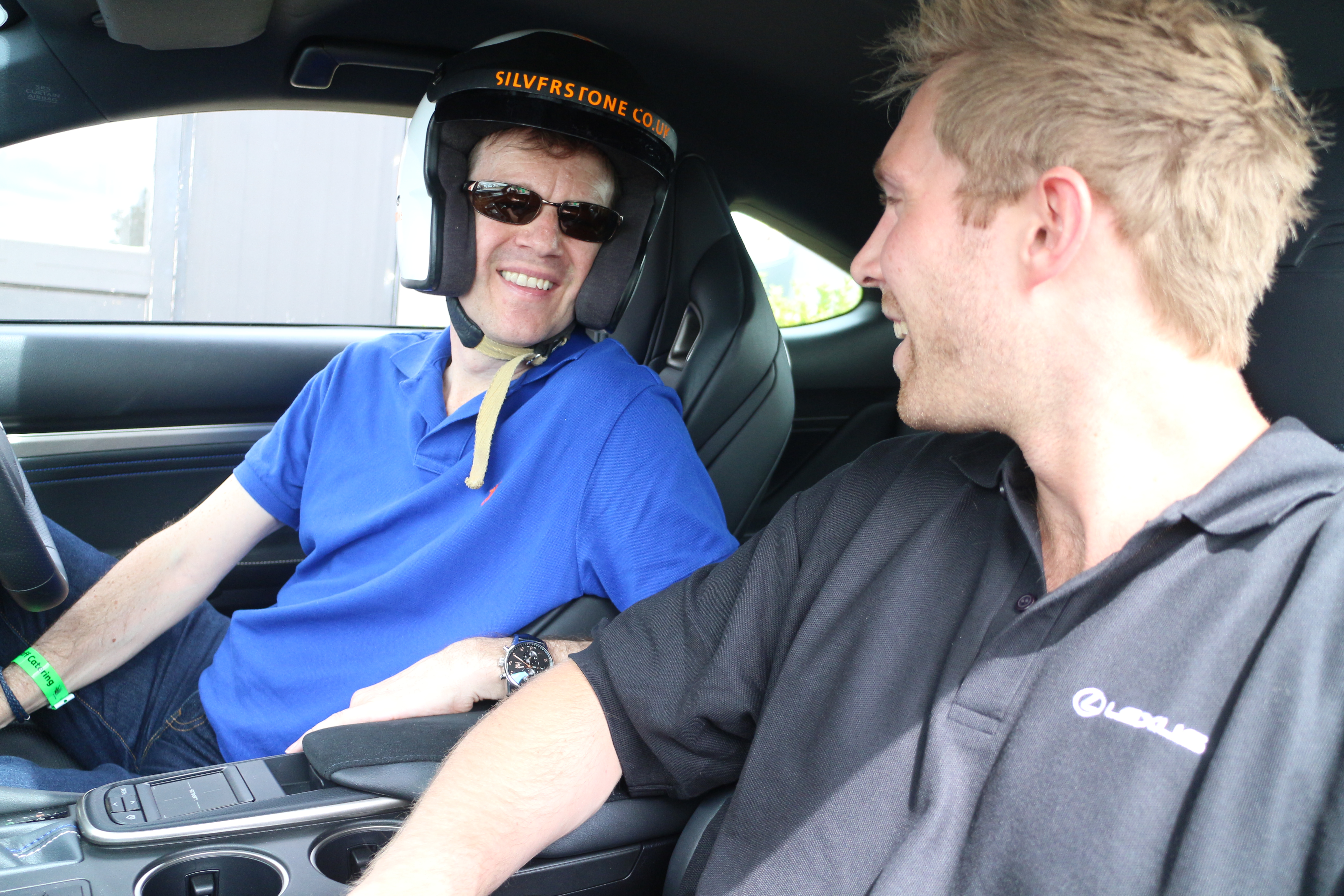 The experience of driving the 473bhp RC F on a track came as a bit of a shock to Paul's system. "I thought that driving on a track would be much easier than it is, but there are so many things happening all at the same time. You have to be aware constantly of everything that's going on around you. Also, braking is quite a different experience. You have to brake harder and more aggressively than you're used to – and earlier than you think."
However, Paul gradually started to get the hang of the track – and the car: "The RC F is a great car. I felt comfortable in it straight away, because a lot of the controls are the same as my RX 450h, but the acceleration and brakes are in a different league altogether.
"It took me a while to gain the confidence to brake hard into the corners but the trick is not too brake too hard, otherwise you can lose too much speed. On the other hand, too little braking means you can easily overshoot the turn-in point. I think the RC F's traction and stability controls may have come to my assistance more than once. On the Hangar Straight I was able to get up to 135mph, but I still felt safe and in control, knowing that the brakes were more than capable of slowing me down for the next bend."
James was also impressed with how quickly Paul picked up some track-driving skills: "He did well, especially as he previously had zero experience driving on circuits. We started off slow, because there's a lot of new information to absorb: it's a totally different style of driving.
"Towards the end of the session, we were getting laps where we were getting most of the corners right on one lap or other. So what Paul needs to work on next is more consistency and putting them all together in a single lap, for three or four laps."
At the end of the day, Paul was delighted with the opportunity to drive on a track. "I thought the whole experience was fantastic. James was a great teacher who seemed pretty relaxed dealing with a complete novice. I learned that while track driving is completely different from road driving, there are still some skills I can try and use on the road – in particular looking ahead and anticipation," relates Paul.
What about the RC F? That made an lasting impression on Paul, too: "I'd never been in an RC F before but I certainly wouldn't rule one out in the future. I may have fallen in love with the noise that 5.0-litre engine makes blasting up the straights!"
For more information on the Lexus RC F, please visit the official Lexus UK website.