The Lexus LS is a high performance luxury saloon car that sits at the very top of the Lexus range: quiet, powerful, refined and more luxurious than ever before. The five-seat LS 460, available in Luxury or F SPORT trim levels, is powered by a powerful and silky smooth V8 petrol engine.
Meanwhile the long-wheelbase LS 600h L, offered in top-of-the-range Premier trim level, harnesses the power of Lexus Hybrid Drive technology for the ultimate luxury hybrid experience. And because Lexus is committed to making the LS saloon excel in every way, the cars are all hand-finished by Lexus' most experienced and highest skilled specialists.
Using innovative design and world-leading technology, the LS is the pinnacle of Lexus' pursuit of perfection, proving that the only VIP that matters is you.
Driving
The Lexus LS range is split into two models, with each powered by a different powerplant. The rear-wheel drive LS 460 is driven by a powerful 382bhp 4.6-litre V8 petrol engine paired with a smooth eight-speed automatic transmission, delivering rapid performance for a car of its size – the LS 460 hits 62mph in less than six seconds.
Lexus equipped the LS 600h L with a full hybrid powertrain that uses a 5.0-litre V8 petrol engine and powerful electric motor to generate 439bhp of power, driving all four wheels through a dual-stage E-CVT transmission. The full hybrid system allows the LS 600h L to travel whisper quiet on electric power alone, using no fuel and producing zero emissions.
Lexus' Adaptive Variable Suspension system (fitted as standard) constantly monitors and adjusts the LS air suspension for the optimal balance between ride comfort and stability. At low speeds the ride is more supple and compliant, but the damping force increases at higher speeds for a more stable feel in corners and under braking. The LS 460 F SPORT model benefits from lowered suspension and improved brakes for an even more rewarding driving experience.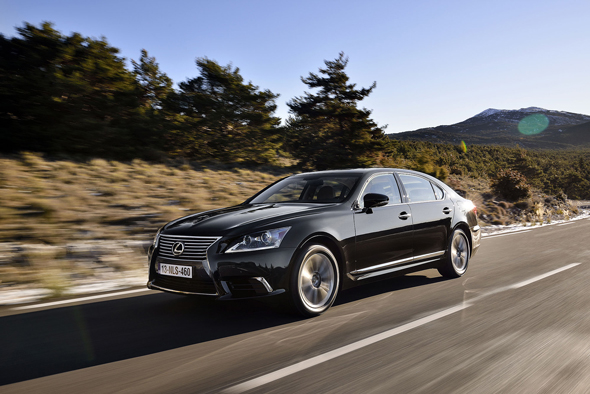 On both the LS 460 and LS 600h L, several selectable drive modes alter the driving experience to suit your mood. In Comfort mode, the AVS suspension is softened for a more comfortable ride. Eco mode lessens throttle responses for more economical motoring, while Sport S mode increases throttle response and Sport S+ adds sportier suspension and steering settings. Drivers of the LS 600h L can also select electric-only EV mode.
Comfort
Designed from the outset to provide unrivalled levels of comfort and refinement, the LS uses an advanced construction that decreases vibration and noise through the body of the car. Increased insulation and improved seals lower engine, road and wind noise to class-leading levels, the best ever experienced in a Lexus. The LS even uses specially developed wheels to reduce road noise.
The saloon's spacious interior is sumptuous and very well-appointed, with high-quality leather used throughout. The seats are all heated, with electric adjustment and air conditioning on the front seats. As well as the extra legroom afforded by its longer wheelbase, the LS 600h L Premier incorporates air-conditioning in its rear seats, and buyers can also upgrade to the full Rear Seat Relaxation Package including electric reclining rear seats with Ottoman-style thigh and leg rest and massage function – luxury at its best.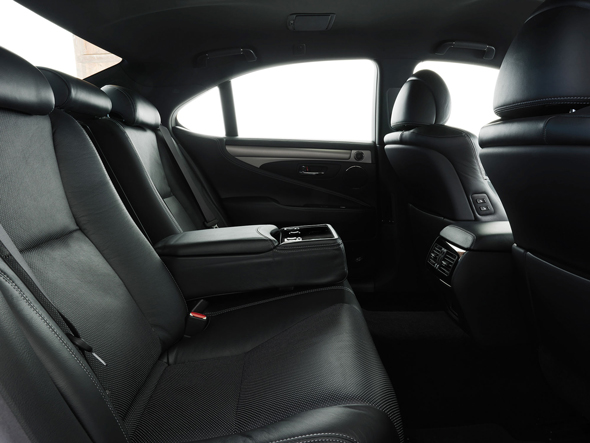 Lexus understands that technology can markedly enhance the onboard experience, and leads the way with the LS range. The LS 600h L Premier's world-first Climate Concierge system combines the multi-zone air-conditioning with the seat heating and cooling functions to make sure that every person in the car is kept comfortable to their preferred settings. Additionally, the same Nanoe ionic air purifying technology used on the Lexus GS is fitted to all LS models makes the cabin a cleaner place to enjoy.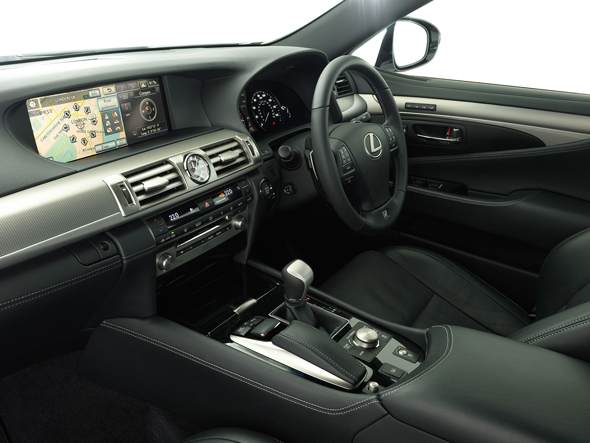 Equipment levels are outstanding across all LS models, with the world's widest multimedia display (measuring 12.3″), navigation system, 19-speaker Mark Levinson Reference Surround audio system with DVD player, DAB tuner, Bluetooth, voice command, parking sensors and reversing camera all fitted as standard. The LS 600h L also has a rear seat entertainment pack with Blu-Ray player and roof-mounted screen.
Safety
The presence of eight airbags in the LS 460 and a total of 11 in the LS 600h L indicate that the luxury saloon is a very safe car in which to travel. Yet Lexus would rather you didn't have to experience them firsthand and has therefore fitted a number of safety technologies to keep you safe on the move. Traction and stability control, anti-lock braking with braking assist, and Lexus' VDIM dynamic management system help you to maintain control in all manner of situations.
The LS 600h L also incorporates the very latest pre-crash safety systems that use millimetre-wave radar and infrared projectors to detect impending collisions and minimise the impact and potential injuries. An optional Night View system uses infrared projectors to display the road ahead in real time on the car's 12.3″ multimedia display. There's even technology to protect other road users, such as adaptive high beam that prevent the headlights dazzling oncoming traffic.
Running Costs
Thanks to Lexus' use of innovative engine technologies, even a large luxury saloon like the LS won't cost the earth to run. The V8 petrol-engined LS 460 achieves a combined economy figure of 26.4mpg and attracts an annual road tax fee of £485 after the first year (2014-15 rates).
With its full hybrid drivetrain, the LS 600h L costs even less – fuel economy is rated at 32.8mpg on the combined test cycle and 12 month's road tax just £255 after the first year (2014-15 rates).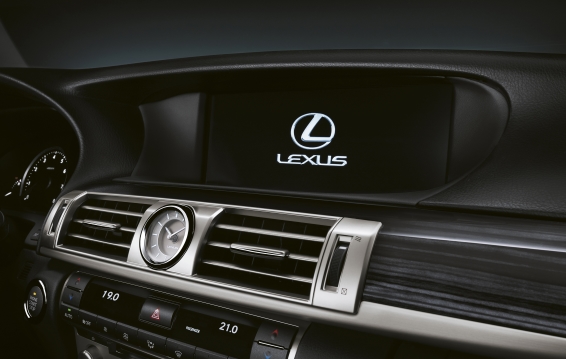 Quality
Lexus builds the flagship LS saloon at its state-of-the-art Tahara factory in Japan where the latest precision automated production techniques are employed alongside the skills of the 'Takumi' master craftspeople. An example of Lexus' commitment to quality is seen in the 'shimamoku' wood-veneer steering wheel which takes 38 days to complete.
With strict quality controls and rigorous testing in place, Lexus confidently warrants the LS for three years or 60,000 miles (whichever comes sooner) against mechanical defects and, irrespective of mileage, offers a three year warranty against rust and paint defects and 12 years' anti-corrosion protection. Hybrid components are covered for five years or 60,000 miles.
Prices*
The Lexus LS 460 is offered in two trim levels – the LS 460 Luxury retails at £71,995 on the road, and the LS 460 F SPORT is priced at £74,495. The long-wheelbase, hybrid LS 600h L Premier starts at £99,995, rising slightly to £101,510 when ordered with the Night View system.
For further information about the LS range, visit the designated section of the Lexus UK website. To experience the LS firsthand, contact your local Lexus centre or leave us a message below and we'll be in touch.
*Prices correct as of 22/9/15