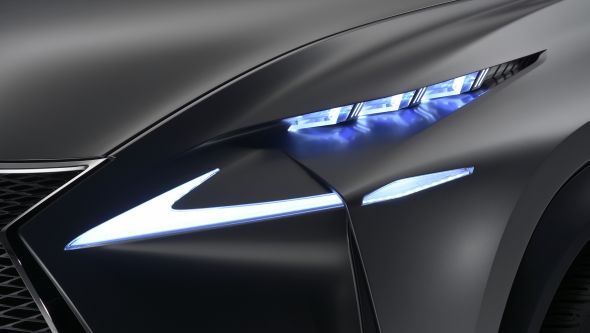 It's about more than light… Lexus headlamp design has always been about injecting drama and personality into our cars.
But in recent years, the bold evolution of our spindle shaped front grille has placed even greater emphasis on headlamp design. For proof, look no further than the LF-NX concept, a vehicle which offers dramatic evidence of the new creative freedom given to the Lexus design team.
"[The headlamps] tell the world that the LF-NX is a Lexus," says Nobuyuki Tomatsu, Project Manager, Lexus Design Division. "This expression is new territory for Lexus and we're pretty excited about it."
The LF-NX adopts a new design feature that comprises three diamond-shaped LED lighting units. When placed side-by-side they form a stylised but functional headlight component that creates a provocative facial expression.
Also unique are the LED daytime running lights, located below the headlamp clusters. Their arrowhead design is a recurring motif in Lexus design and is subtly referenced elsewhere on the LF-NX, such as in the shape of the C-pillars.
But where the LF-NX concept breaks totally new ground in terms of its lighting is in the three-dimensional rear combination lamps, which feature a form of light animation behind the glass housing.
Little has been revealed so far about how this kaleidoscopic animation is generated but we do know that it is a projection effect specially developed for the LF-NX. It was also designed to complement the innovative lighting effects inside the car, which animate commands from the remote control interface as ripples of energy moving through the car's nervous system.
According to Tomatsu, Lighting is being used by Lexus as a way of strengthening the sense of unity between car and driver, while also providing new expressions of L-finesse design.
Though the lighting components mentioned in this post remain conceptual for the moment, production versions are not beyond the realms of possibility…