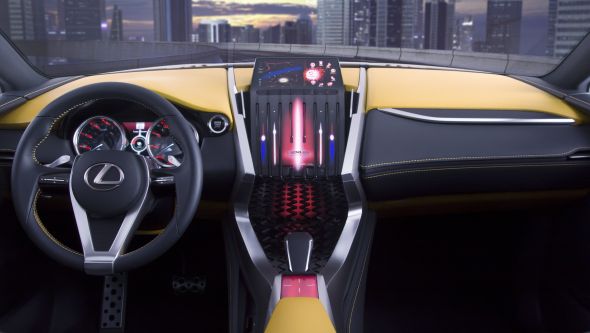 The interior of the bold new Lexus LF-NX concept hints at the kind of progressive luxury Lexus envisions for future cabin layouts.
It also reveals developments that combine natural ergonomics with the brand's acclaimed Human-Machine Interface (HMI) technology.
A key element of HMI has been a dividing of the dashboard into an upper display zone, with a multi-display screen positioned high up for at-a-glance viewing, and a lower operation zone equipped with a mouse-like Remote Touch Interface controller. This interior design theme was introduced in the CT 200h and gently evolved in the current Lexus GS.
The layout has won awards and many admirers. But a consideration of the latest round of Lexus Future concept cars shows that Lexus is progressing HMI technology into new and exciting directions.
The LF-CC concept of 2012 featured familiar zonal treatment, locating all drive function controls in the immediate vicinity of the driver's seat. However, a close examination of this area revealed an altered design of gear shift lever and, directly behind it, a new 'touch tracer' display for remote control of a range of vehicle systems.
Little explanation was given at the time, but the significance of this touch-sensitive display suddenly increased when it reappeared in production-ready form in the RC coupe and in a further evolution in the latest LF-NX concept — both seen at the 2013 Tokyo Motor Show.
In contrast to the current mouse-like controller, the appearance of the new Remote Touch Interface suggests that it might function like the touch pad of a laptop in order to direct a cursor on the upper screen. Alternatively, the clear division of the interface into four quadrants could also mean that it might function similarly to a smartphone screen, perhaps using familiar swipe, scroll, pinch and tap controls. And who knows whether the circular shape of the navigation icons printed on the upper screen of the LF-NX has any relevance to a scrolling mechanism within the interface.
What is unique to the LF-NX concept is its use of lighting within the HMI setup, where commands from the interface are animated as ripples of light energy moving through the car's nervous system. Could this feature become a production reality too?
We cannot reveal anything at this time. However, based on past experience, if innovations in Human-Machine Interface technology appear more than once in different concept vehicles then there is a good chance Lexus knows it is on to a good thing.