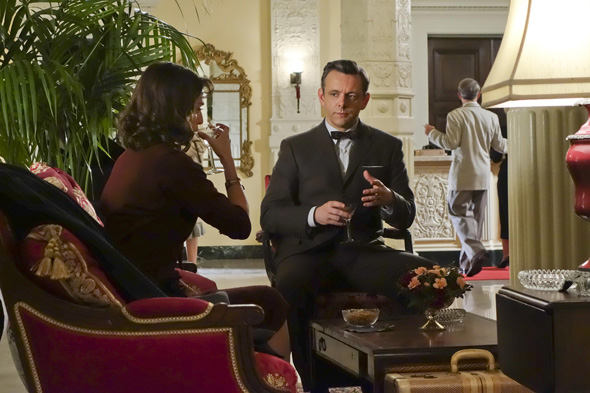 Why you should watch it
It seems strange in what is arguably an over-sexualised era to think that, once upon a time, sex was something only suitable to be discussed between married couples.
The change in attitudes is due, in large part, to the work of Dr William Masters and Virginia Johnson, two researchers who pioneered investigations into human sexual response and published their findings in two major reports that arguably stimulated (if you excuse the pun) a sexual revolution the 1960s and early 1970s.
It's not difficult to imagine that the real lives of individuals such as Masters and Johnson were as interesting and unconventional as the subject into which they were researching, so a TV series about them and their lives should be highly watchable. So it is that Masters of Sex – now in its second season on More4 – explores the research and the relationship between Masters (Michael Sheen) and Johnson (Lizzy Caplan).
Series 1 – which was nominated for the Best Drama Series at the 2014 Golden Globe Awards – looked at the early research, plus the relationships of not only Masters and Johnson, but also the other staff around them at the obstetrics and gynaecology department of Washington University in St Louis.
Season Two kicks off with Masters having to look for a new job and separated from Johnson professionally – but not personally. Masters is having to compromise his work for the sake of his marriage and Johnson finds life difficult at the hospital, thanks to rumours about her role in the research and the attitudes of the other staff.
The story of these groundbreaking individuals is a fascinating human story, but it is also significant in showing how their attitudes to sex, combined with their medical expertise and inquiring minds, led to a huge societal change – one that has had massive repercussions for all of us growing up in the wake of their reports.
Who to look out for
Michael Sheen – again playing a real-life character after his turns as David Frost, Tony Blair and Brian Clough – again demonstrates why is he is currently one of this country's leading actors.
Lizzy Caplan as Virginia Johnson embodies the sexual charisma that the real-life Johnson was said to have.
There are also plenty of other outstanding performances from actors with serious credentials, including Beau Bridges, Alison Janney, René Auberjonois and Danny Huston. And look out for controversial comedian Sarah Silverman later in the series.
Where next
Series 2 continued pretty much straight after the end of the first series, but the relationships of Masters, Johnson and the other characters are about to become even more tangled.
The halfway point of the series also sees the chronology taking a sudden change, jumping three years ahead. This should be an interesting narrative move, trusting the audience to take a leap of faith and no doubt introducing a number of new characters at the same time.
There's a lot more drama to come and, with a third series also being commissioned, we can look forward to the intriguing story of the people behind modern sexual mores continuing.
See more of Drama on 4:
Babylon
The Good Wife
Nashville
Hostages
Southland
New Worlds
Utopia
The Mill