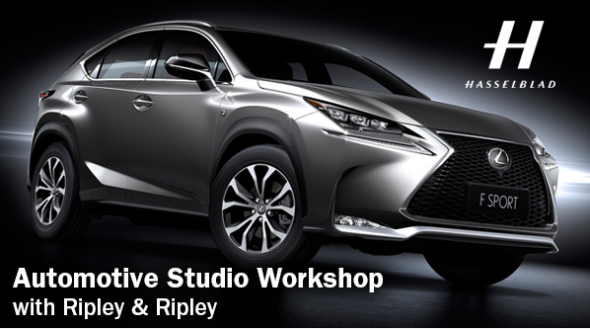 Have you ever wondered what it takes to be a top car photographer? On November 28 you can find out, thanks to internationally renowned camera and photographic equipment manufacturer Hasselblad and hugely respected car photographer Ripley & Ripley.
The pair are giving you the chance to learn the tricks of the trade in a special one-day workshop, where you'll be able to capture the delicately chiseled lines of the new Lexus NX 300h.
As one of the world's leading automotive photographers, 'Rip' will host a day long workshop at Banbury's Junction 11 Studio – just south of Birmingham and right next to the M40 motorway – on how to light and shoot a car in a professional studio; providing the perfect opportunity for photographers to gain an insight in to the workings of a high-end car shoot. You'll also get to sample the new Hasselblad H5D-200c Multi-Shot camera.
Designed to look as though it has been forged from a single piece of sheet metal, the NX boasts a number of striking angles, and it's this intricacy of exterior design that make the car both a challenge and a joy to shoot.
Ripley outlined the value of the workshop, saying: "This is an exclusive opportunity for photographers to gain an insight in to how I shoot cars in a professional studio. I will be showing how I add one light at a time to highlight the lines of the bodywork and at the same time avoid unwanted reflections."
He went on to explain the significance of using NX, Junction 11 and the Hasselblad H5-200c: "The combination of the Hasselblad H5D-200c MS camera, the Lexus NX car and the Junction 11 studio space is sure to allow for some amazing images, with delegates able to get involved in the shoot and take away some shots."
The workshop will take place on Friday November 28 at Junction 11 Studio, Banbury, Oxfordshire, from 10am to 5pm. Places cost £110 + VAT per person and can be booked on Hasselblad's official website.
See also: 
The Lexus IS Art Project
What to expect from Lexus on Instagram
Where next?
Find out more about the Lexus NX on the designated section of the Lexus UK website. If you would like to arrange a test drive, leave a comment below and we'll be in touch shortly.