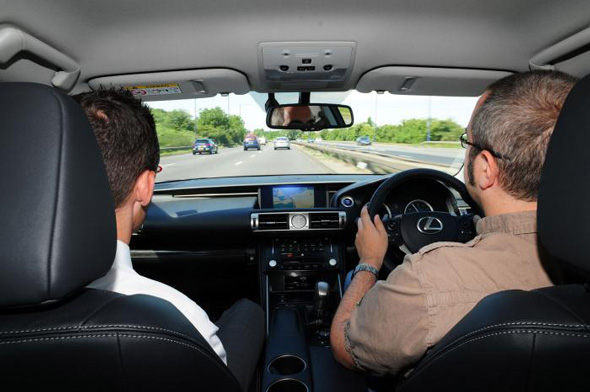 A Lexus IS 300h is currently on a long-term test with Auto Express and to maximise fuel economy deputy road test editor editor Dean Gibson receives some hybrid driver training
How do you squeeze maximum efficiency from your Lexus hybrid? Auto Express has an IS 300h on its long-term test fleet and recently deputy road test editor Dean Gibson received some extra help to eke more fuel economy out from the car.
The help came in the form of Steve Croughan from DriveSense, one of the UK's leading driver training organisations. Dean reported three main recommendations to alter the way he'd been driving the IS after a session with Steve.
The first was to ensure the car was in Eco mode, rather than Normal, which offers around a 5% fuel economy improvement. The second was to keep a greater distance to the car in front. This gives the hybrid system plenty of opportunity to plough energy back into the battery as you coast to a halt, reported Dean.
And lastly, Dean was advised to keep his foot on the brake when waiting in traffic and not move the car into Park, as this uses more energy.
After this initial training, Dean recorded an 5mpg improvement in the IS 300h's fuel economy. You can read more about the IS long-term test on Autoexpress.co.uk.
To arrange find out more about the Lexus IS, or to arrange a test drive, visit the dedicated section of the Lexus UK website.
See also:
Hybrid driving – Lexus top tips for best fuel economy
Lexus Hybrid Health Check
How does Lexus Hybrid Drive work?