The new UX has been engineered to deliver "elegant performance with peace of mind" consistent in all Lexus models. The foundation for this is the new GA-C global architecture platform, used for the first time in a Lexus.
In addition to two new powertrain debuts and a choice of front- or all-wheel drive in hybrid models, the suspension, steering and wheels have all been developed to support Lexus's dynamic and performance ambitions for the UX.
Lexus UX performance features: GA-C platform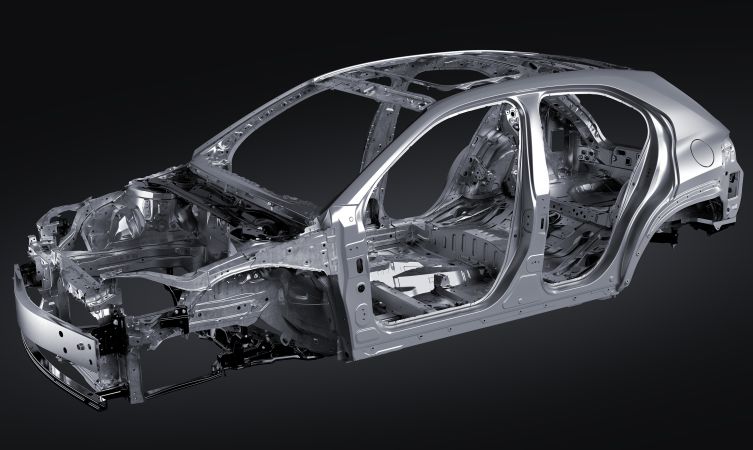 The Lexus UX has the lowest centre of gravity of any vehicle in its class
The UX is the first Lexus constructed using the new GA-C global architecture platform. Its development focused on endowing the UX with nimble responsiveness, while communicating a sense of stability and safety. Extensive use of high-tensile steel around the door apertures, and application of highly rigid adhesive and laser screw welding in key locations have greatly enhanced overall rigidity.
The UX has the lowest centre of gravity of any vehicle in its class, a characteristic that is central to the car's fine ride and handling quality. It is supported by weight-saving measures in the body construction, including the use of lightweight aluminium for the doors, front wings and bonnet, as well as resin material for the rear hatch.
Lexus UX performance features: UX 250h
At the heart of the Lexus UX 250h is our new fourth-generation self-charging hybrid electric system, featuring a new 2.0-litre four-cylinder petrol engine mated to an electronic continuously variable transmission. The new engine is notable for its high thermal efficiency and output, and when combined with the electric motor should generate a total system output of 176bhp.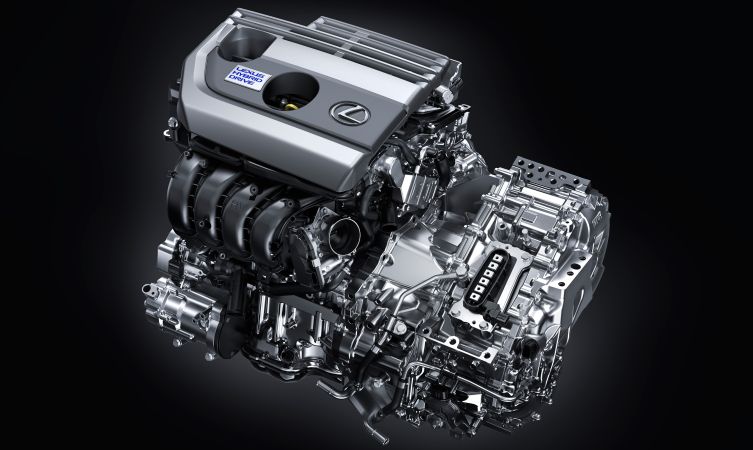 Powertrain development focused not just on outstanding fuel economy but also on driving appeal
The powertrain development programme focused not just on outstanding fuel economy but also on a high level of driving appeal. Particular effort was invested in reducing any 'rubber band' effect in the operation of the hybrid system and transmission. This was achieved by optimising the level of electric motor assistance to increase the sense of linearity between engine revolutions and acceleration.
The system also features a new compact and lightweight transaxle and power control unit, designed to minimise power losses through heat and friction. A new, smaller nickel metal-hydride battery with revised construction and more compact cooling system is located below the rear seat, minimising load-space intrusion and supporting the UX's low centre of gravity.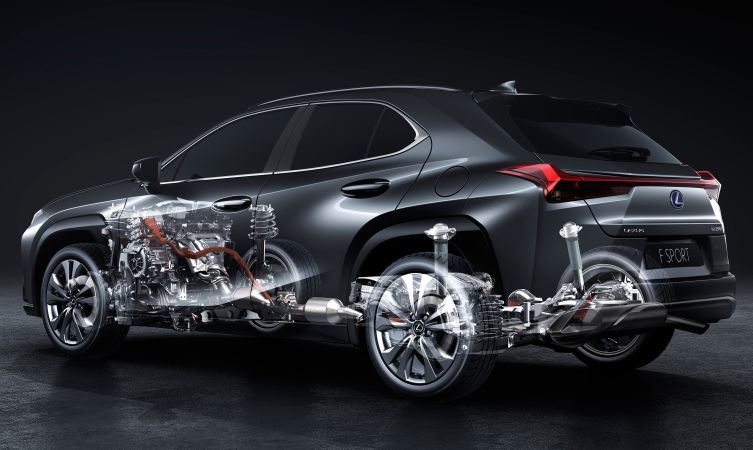 The Lexus UX 250h is also available with E-Four all-wheel drive capability, delivered through an additional electric motor on the rear axle. Torque distribution between the front and rear axles is automatically optimised when accelerating, cornering, or driving on slippery surfaces, contributing to excellent handling stability. When a loss of grip is detected, up to 80% of the system's torque can be directed to the rear wheels at speeds up to 44mph.
Lexus UX performance features: F Sport
Lexus UX F Sport models feature exclusive suspension tuning that includes adjustment to both springs and anti-roll bars. Also available is a specially adapted version of the high-response Adaptive Variable Suspension featured on the flagship LC coupe. When in Sport S+ mode, the system reduces damping force in straight-line driving and increases it when cornering or changing lanes to provide stability with minimal roll.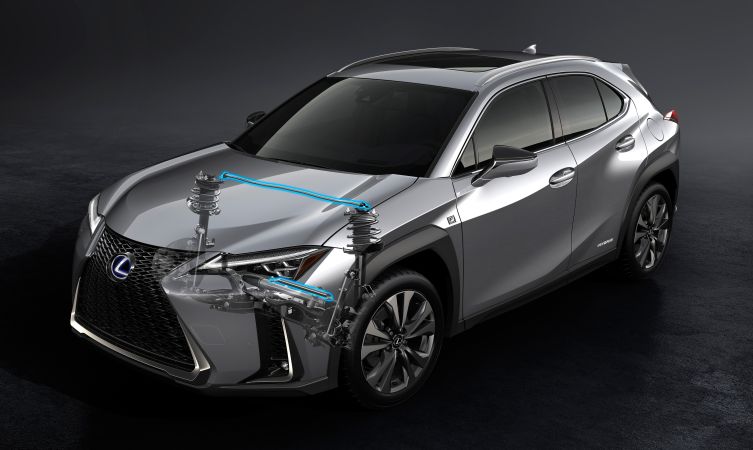 The driving experience can be further enhanced with Active Sound Control, which gives an aural effect similar to that experienced with geared automatic transmission.
Click this link to sign up to our newsletter, and be the first to receive regular updates on the all-new UX, including films, offers and events.
See also: Exterior design of the new Lexus UX
See also: Interior design of the new Lexus UX