Enticing as it may look on the glossy pages of a brochure or the high-definition screen of your digital device, the only true way to experience a premium Lexus is from the driver's seat. That's why Lexus has arranged a special, one-off Lexus Drive Weekend, taking place at Lexus Centres across the country from 19th to 22nd June.
As part of the Lexus Drive Weekend event, Lexus is offering the best ever range of offers* on its vehicles. Choose from the following upgrade, servicing or finance options:
Complimentary upgrade from the IS Luxury to the F SPORT worth £2,500
2 years' free servicing on the Lexus range
Up to £2,000 deposit contribution, plus 5.9% APR with your Lexus finance package
Whether you've been excited to climb into the compact CT 200h, test out the four-wheel drive Lexus RX 450h SUV, or are considering the premium Lexus IS and GS saloons as contenders for your next company car, there's never been a better time to book a test drive.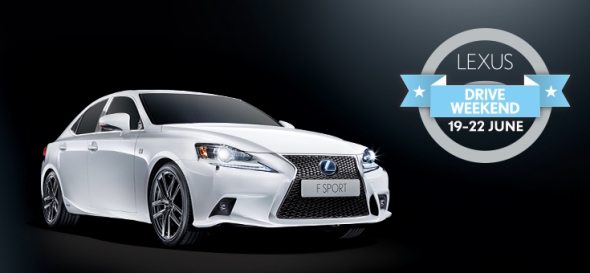 Full terms and conditions for the Lexus Drive Weekend are available on the official Lexus website, but the main thing is not to miss out on your opportunity to book a qualifying test drive for this weekend. Contact your local Lexus Centre directly via the Lexus website, call us on 0845 1295 479 (9am-6pm), or leave a comment below and we'll happily get in touch to arrange the test drive at a time and location convenient for you.
Experience something amazing – experience a Lexus.
*Subject to terms and conditions – see the Lexus Drive Weekend page for full details. Available at participating lexus Centres in the UK, IOM and Jersey.