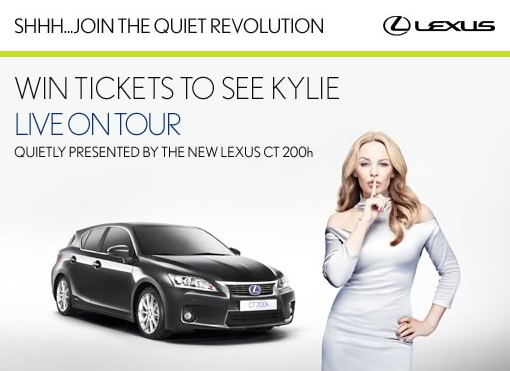 Kylie's joined the Quiet Revolution. Now you can join Kylie on her forthcoming Aphrodite-Les Folies UK Tour, quietly presented by the new Lexus CT 200h.
We are giving you the chance to win a pair of tickets to see Kylie live in concert at the O2 Arena as part of her Aphrodite-Les Folies UK Tour. We'll be giving away one pair of tickets each day for 25 days on our Facebook page. See what Kylie has to say about her forthcoming tour in our exclusive video interview here.
To find out more and enter, just visit facebook.com/LexusUK, log in and click 'Win Tickets' on the left hand side.
In the meantime, join the Quiet Revolution and look out for the new Lexus CT 200h 'Drum Roll' TV advert that premieres on ITV tonight.
Good luck!
Click here to find out more about Kylie and the new CT 200h.