The RX is the best-selling model in Lexus's 26-year history. With more than 2.1 million reaching the road, it represents three out of every 10 vehicles the company has sold. The new fourth generation model looks to build on that achievement, with a completely redesigned, luxurious interior, wrapped in a chiselled new body with a longer wheelbase.
RX will not only surprise new customers, it will also delight and satisfy our loyal customers, whose high expectations will be met by many innovations
A large dose of Lexus's brand DNA has been artfully incorporated into the details, things you can feel as well as see. The reimagining of the model also yields superior on-road performance and new safety technologies, including the innovative Lexus Safety System+.
Takayuki Katsuda, RX Chief Engineer, said: Our ambition has been to make a completely new statement in this segment while building on and staying true to the ground-breaking values of previous RX generations.
"Lexus's pioneering spirit drives our creation of new technology and generates new ideas. It allows us to introduce new vehicles with leading-edge features. We are committed to bringing 'progressive luxury' to the world.
"I believe this new RX will not only surprise new customers, it will also delight and satisfy our loyal customers, whose high expectations will be met by many innovations."
Details and specifications of the production model for the UK and Europe will be announced later this year.
New design
It is obvious at first glance that the new Lexus RX makes a powerful visual statement. The completely new front end features a stronger spindle grille design with a chrome-finished border and triple L-shaped LED headlamps. Together with the redesigned fog lights, this gives the new RX an elegant yet futuristic look. Muscular flares to the front wings add to the vehicle's sporty look.
In side view, the sharp character line running from the front wings to the rear and the flowing roof line create a dynamic profile that minimises drag and reduces front and rear lift. This makes the vehicle more stable at high speed and sharply reduces wind noise. The blacked-out C-pillars create a floating roof effect. New 20-inch aluminium wheels (replacing the current 19-inch rims) can be customised with different coloured inserts, increasing the scope for customer personalisation.
The appearance of the RX's rear has been sharpened and exudes a sense of rock-solid stability, highlighted by new L-shaped taillights that wrap around the sides of the vehicle. When illuminated, these give the car a wider, more authoritative presence, creating a brilliant glow that extends laterally from the body to the tailgate – a Lexus first.
The cabin puts the emphasis on comfort and luxury, with repositioned trim elements that create a high-class feel. Those who want extra opulence can opt for new laser-cut wood ornamentation. A large head-up display takes centre stage, while the information zone features a 12.3-inch monitor, set apart from the cockpit's main operation zone.
The shift lever has been moved from the front of the instrument panel to make it easier to use and give the driver more space. The longer wheelbase means more leg and knee-room for rear seat passengers. The rear seats themselves can be equipped with power recline adjustment and heaters. A panoramic sunroof adds to the sense of spaciousness in the cabin.
Gen Ikeda, RX Chief Designer, said: "We designed the RX to have a high amount of excitement and strength. The longer wheelbase and larger wheel size create sporty, powerful proportions. At the same time as we have secured a highly luxurious and spacious cabin, we have kept a sleek and dynamic vehicle silhouette."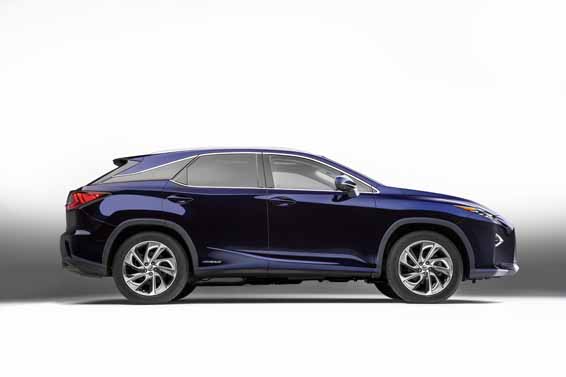 Powerful and efficient engines
The new RX will be available (according to market) with an upgraded, more powerful 3.5-litre V6 petrol engine with a target output of 300bhp, matched to a new eight-speed automatic transmission.
The full hybrid powertrain will feature an improved, Atkinson cycle 3.5-litre V6. System output, including the electric motor, will also be around 300bhp.
Both engines have been tuned to achieve high fuel economy and low carbon emissions.
Better handling and stability
The all-new RX has been engineered to deliver car-like handling. The entire chassis has been strengthened to provide better stability and control through bends. The body structure has been made stronger, too, with extra stiffness that contributes to drastically improved handling response and to a reduction in engine and road noise levels in the cabin.
The Vehicle Dynamics Integrated Management (VDIM) is designed to recognise potentially dangerous situations and to make automatic and often transparent adjustments to ensure the car is kept under control when entering and exiting corners. All-wheel drive improves handling performance on dry and slick surfaces alike.
The fully independent suspension features front MacPherson struts and a rear double wishbone set-up. This has been tuned and reinforced to improve handling while keeping the ride remarkably smooth. Most RX versions will be available with Adaptive Variable Suspension (AVS), which electronically monitors and adapts suspension damping and steering to secure the best handling and ride according to the driving conditions.
Lexus Safety System+
The new RX benefits from significant improvements in active and passive safety provisions, in line with Lexus's continuing focus on improving vehicle safety performance.
The improvements include a stronger body structure that raises the overall level of passive safety, and the introduction of the Lexus Safety System+, which helps avoid or mitigate collisions at a wide range of vehicle speeds.
Lexus Safety System+ is being introduced worldwide. It integrates several existing Lexus active safety technologies: the Pre-Collision System (PCS), which detects and warns the driver of potential collision risks with vehicles, pedestrians and obstacles on the road ahead; Lane Departure Alert (LDA), which triggers a warning sound if the vehicle moves out of its lane without signalling; and Automatic High Beam (AHB), which helps maintain the best forward visibility when driving at night.
The system's multi-faceted approach to active safety makes use of a millimetre-wave radar that works with a camera to help keep the RX in its intended driving lane, via the Lane Keeping Assist (LKA) feature. These elements also support the performance of the Adaptive Cruise Control (ACC).
Higher safety levels can be secured using optional features including an Adaptive High Beam System, Panoramic View Monitor and Blind Spot Monitor.
New RX F Sport
The F Sport version of the new RX is aimed at customers seeking more excitement and performance from their luxury SUV. It will be available with both powertrains and will benefit from a number of special visual and performance features that will set it apart from other versions in the range.
The spindle grille and lower centre section of the rear bumper have a F-motif mesh. There are also new alloy wheel designs, exclusive to the model, and in the cabin there is a dedicated instrument cluster and a sports steering wheel, wrapped in perforated leather and featuring paddle shifts. Exclusive colour options and trims are also part of the package.
The new RX F Sport's on-road performance is enhanced by an active stabiliser system which keeps the vehicle remarkably flat through corners. The Adaptive Variable Suspension (details above) is fitted as standard, further helping to keep the Lexus planted on the road. The Drive Mode Select system adds a Sport S+ mode with AVS in addition to the Eco, Normal and Sports S settings.