The all-new LS marks the introduction of new technologies that provide world-leading safety performance and a new level of driver assistance that signals our progress toward developing future automated driving systems.
Lexus has been promoting the development of automated driving technologies since the 1990s, working toward its goal of eliminating traffic accidents and providing individual mobility.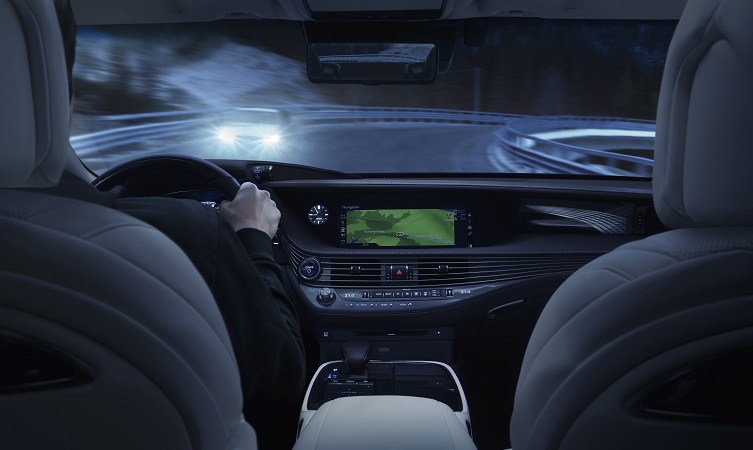 The 2018 Lexus LS makes important progress in this area. All versions are equipped with the latest Lexus Safety System+ technologies, while the high-grade Premium model also offers the more advanced Lexus Safety System+ A, which uses Dynamic Cruise Control and Lane Tracing Assist functions to give a level of automated driving capability.
2018 Lexus LS: active safety technologies
The Pre-Collision System in Lexus Safety System+ A is enhanced with the addition of both Pedestrian Alert and a world-first Active Steering Assist function. It uses millimetre-wave radar and a stereo camera to detect pedestrians and vehicles ahead, supporting collision prevention and damage mitigation by alerting the driver and providing enhanced braking.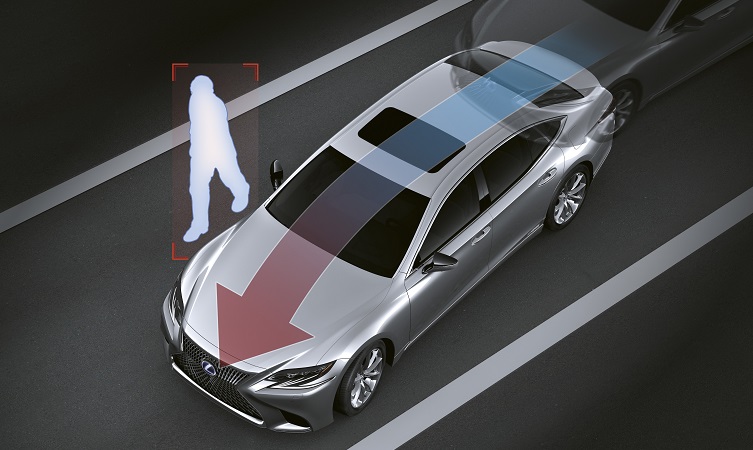 If the system calculates that it would be difficult to avoid a collision using brake control alone, but that it might be avoided with some steering input, it will initiate automatic steering control in addition to triggering an alert and applying the brakes.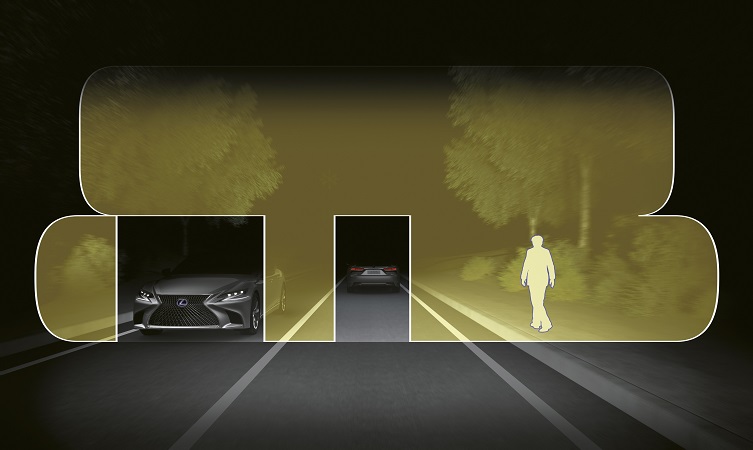 The headlights on most LS models feature an arrangement of eight upper and 16 lower LEDs. The purpose is to provide a new two-stage Adaptive High-beam System, which gives finer control of lighting strength and distance and allows the car to be driven for longer on high-beam without dazzling oncoming vehicles.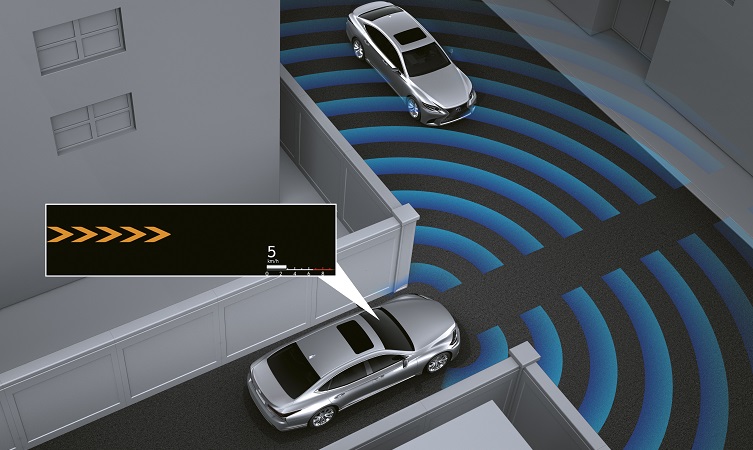 Additional active safety technologies include Front Cross Traffic Alert, which is designed to help prevent collisions at intersections by detecting vehicles and the direction from which they are approaching; Lane Tracing Assist, which helps prevent the car straying from its traffic lane, even on roads not marked with lines; and Road Sign Assist, which acquires and displays road sign information to reduce the risk of the driver failing to notice important highway commands.
2018 Lexus LS: driver assistance technologies
Lexus CoDrive adds Lane Tracing Assist to the basic functions of Dynamic Radar Cruise Control to provide steering support in line with the driver's intentions and to reduce his or her burden on roads with many bends or in traffic jams.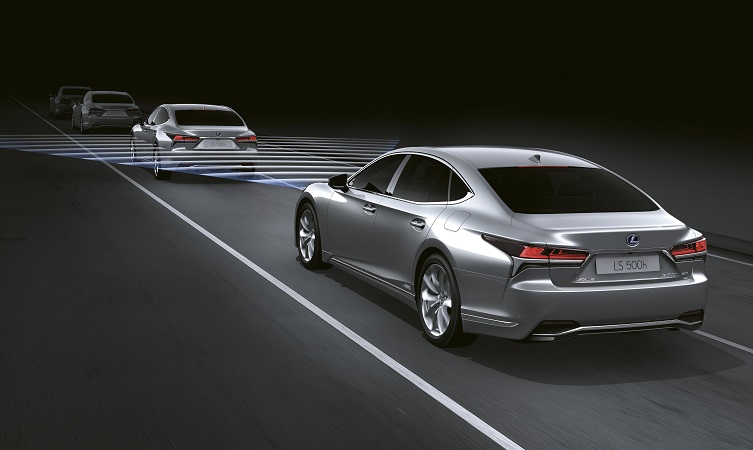 Dynamic Radar Cruise Control offers outstanding recognition performance with wide-angle detection to help make driving more comfortable and reassured when behind another vehicle. Meanwhile, Lane Tracing Assist uses steering control to provide lane-keeping support, gathering direction data from the vehicle as well as the lane demarcation lines.
2018 Lexus LS: additional safety technologies
Low-speed braking support systems reduce the risk of damage when parking or manoeuvring, helping the driver avoid hazards such as nearby moving vehicles, pedestrians and stationary objects. This includes the world's first rear pedestrian support brake, which detects pedestrians behind the vehicle and will brake the vehicle if there is a risk of a collision.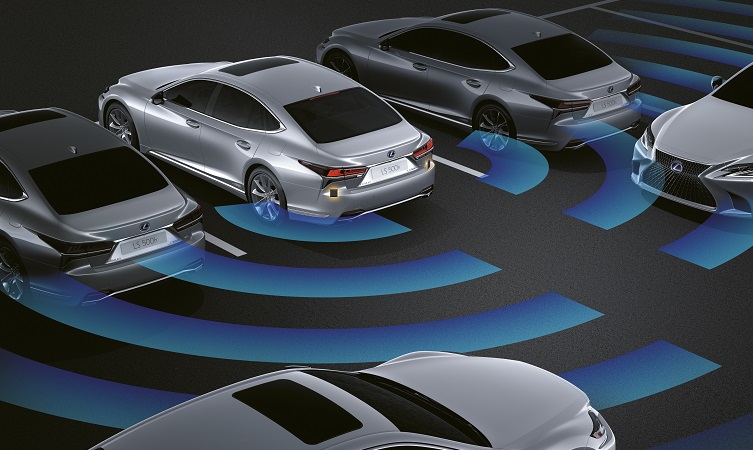 Side clearance view and cornering view functions have been added to the Panoramic View Monitor, making it easier for the driver to determine safe space in the vehicle's immediate vicinity. Cameras around the car generate a bird's eye view, including a three-quarter angle in line with the car's direction when moving through a bend or turn.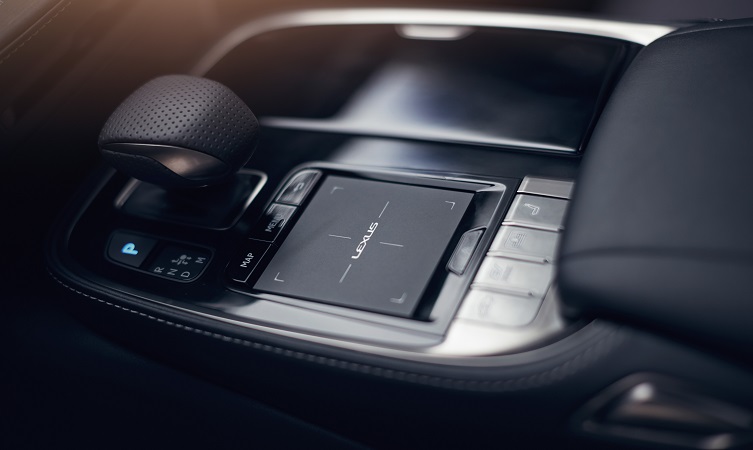 The new LS is equipped with a next-generation multi-media system that provides complete control of navigation, audio, media, telephone, apps and climate control, as well as adjustment of key vehicle settings. It uses a 12.3-inch high-resolution screen and offers dynamic voice recognition, although manual operation is also available by means of the familiar but enlarged Remote Touch Interface.
See also: Exterior design of the 2018 Lexus LS
See also: Interior design of the 2018 Lexus LS
See also: Takumi craftsmanship of the 2018 Lexus LS
See also: Evidence of omotenashi in the 2018 Lexus LS