The new Global Architecture – Luxury platform that underpins the new Lexus LS is fundamental to its quality and performance. Its combination of a low centre of gravity, structural rigidity and optimum weight balance contributes to reassuringly poised dynamics.
2018 Lexus LS: lightweight yet rigid structure
The use of new, lightweight materials was a major contributing factor in the Lexus LS achieving an optimal 51:49 weight distribution from front to rear.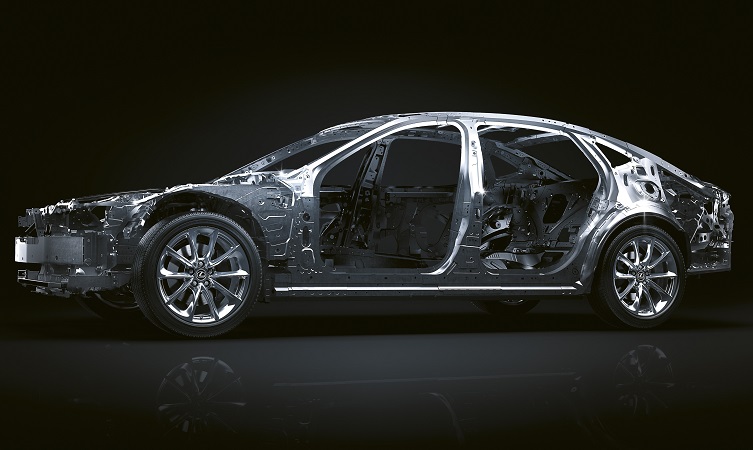 For example, the suspension towers on all four corners are made from cast aluminium, which are up to twice as strong and 50% lighter than equivalent steel parts. High-tensile steel accounts for almost 30% of the vehicle's mass, more than double the proportion used in the previous LS, while structural adhesive and laser screw welding significantly increases the rigidity of panel joints.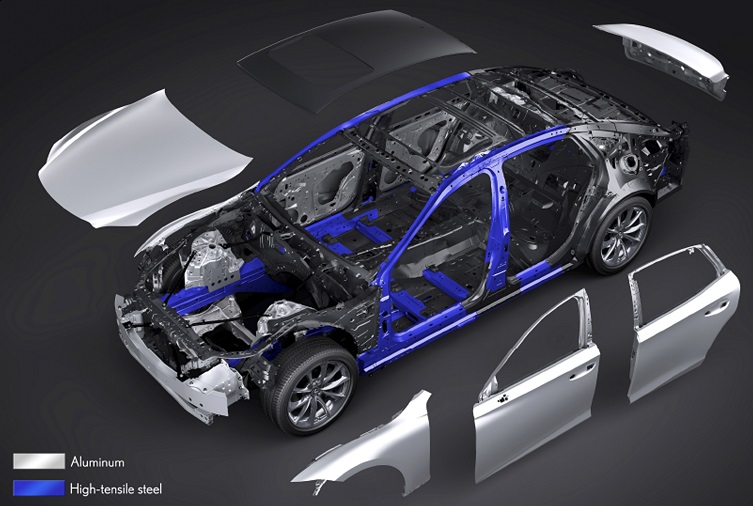 Principal panels, including the doors, wings, bonnet and boot lid and made of aluminium. Where the doors are concerned, this not only saves weight but allowed the engineers to develop a slim but strong structure to maximise space inside the car.
2018 Lexus LS: chassis systems
Suspension compliance has been a defining element in the ride quality and comfort of successive Lexus LS generations. With this latest model, high-mounted multilink suspension systems have been developed, allowing even better performance to be achieved.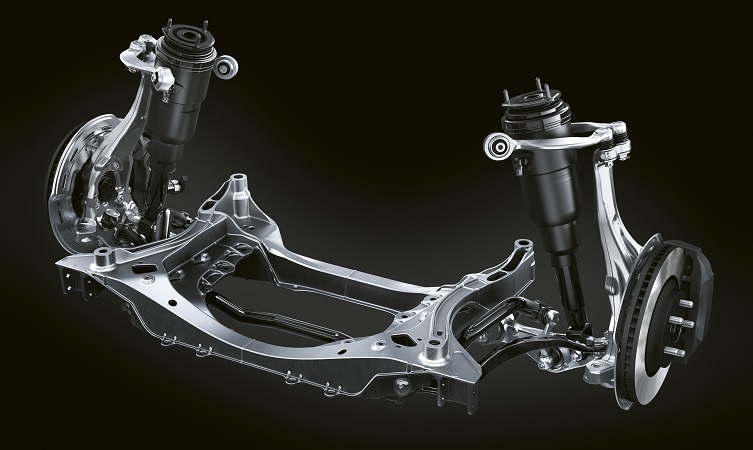 The front set-up uses double ball joints for both the upper and lower control arms, optimising the geometry to increase wheel control and give more precise steering control with reduced effort. At the opposite end, a compact multilink design provides increased levels of stability.
The new LS is also equipped with an advanced Adaptive Variable Suspension that provides continuous adjustment between 650 levels of damping control in response to the way the car is being driven and road surface conditions. On uneven roads, the system can increase ride comfort without too great an increase in damping force, but when the steering wheel is turned, damping force is automatically increased to suppress weight transfer and maintain a flat cornering attitude.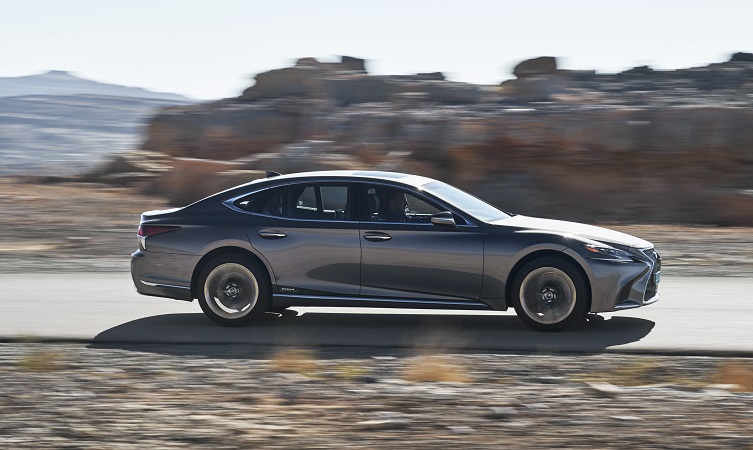 Electronically controlled air suspension is available in selected grades, providing exceptional ride quality. It uses a closed system in which compressed air is stored in a pneumatic tank that supplies pressure at the moment it's needed to raise the ride height.
Vehicle Dynamics Integrated Management co-ordinates control of a range of vehicle handling and active safety systems to enhance the overall dynamic performance of the new LS. However, the enhanced Lexus Dynamic Handling system in F Sport models provides an additional level of handling poise and control through subtle adjustments in the angle of all four wheels.
2018 Lexus LS: Multi Stage Hybrid System
The LS 500h has a self-charging, petrol-electric hybrid powertrain that uses the Multi Stage Hybrid System first seen in the LC 500h. It features a naturally aspirated 3.5-litre V6 Atkinson cycle petrol engines, two electric motors/generators and a compact, lightweight lithium-ion battery. Ample torque is generated at all engine speeds and the combined system output is 354bhp, offering acceleration from rest to 62mph in as little as 5.4 seconds.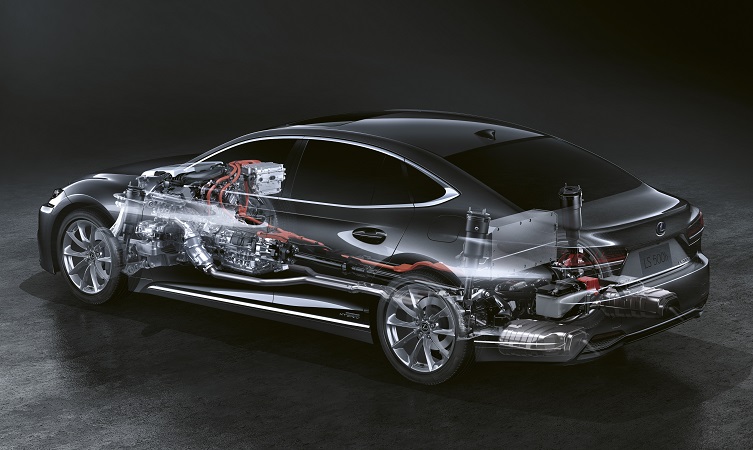 Multi Stage Hybrid System uses the established Lexus Hybrid Drive electric continuously variable transmission coupled to a second four-speed transmission. This arrangement expands the range of gearing to replicate the feel of driving with a ten-speed gearbox. It therefore amplifies the feeling of power, providing more direct response to driver inputs and a higher level of dynamic performance. An additional benefit is that it allows the LS 500h to be driven at up to 87mph with the combustion engine switched off.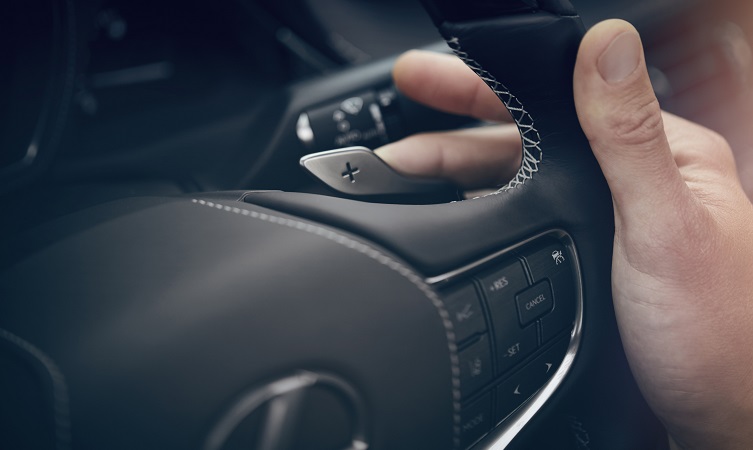 Gear selection is made in line with driving conditions and driver input, while an 'M' mode enables gears to be held or changed manually via paddle shifters mounted behind the steering wheel. The car's performance can also be tailored through Drive Mode Select, which offers a range of tunes to suit personal preferences and road conditions.
See also: Exterior design of the 2018 Lexus LS
See also: Interior design of the 2018 Lexus LS
See also: Takumi craftsmanship of the 2018 Lexus LS
See also: Evidence of omotenashi in the 2018 Lexus LS
See also: Imaginative technology in the 2018 Lexus LS